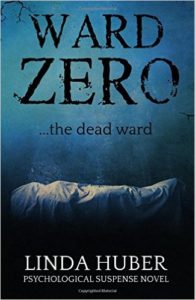 Synopsis:
Horror swept through her. Had she been buried alive?
On Sarah's first visit to see her foster mother, Mim, in Brockburn General Hospital, she is sucked into a world that isn't what it should be.
Someone is lying, someone is stealing. And someone is killing – but who? With a grieving child to take care of, as well as Mim, Sarah has to put family first. She doesn't see where danger lies – until it's too late.
If you think you're safe in a hospital, think again.
My Rating: 4/5
My Review:
My thanks to the author for a review copy of this book.  I have had my eye on Linda Huber's books for some time…she was definitely on my radar.  So when asked if I would review Ward Zero, I jumped at the opportunity! Love the cover of this book – it certainly captured my interest and it was one of the reasons I was drawn to this book!
Set in Brockburn, the reader comes face-to-face with loss; abandonment; greed; the desire for escape/freedom (both physically & emotionally); relationship dynamics; a twisted sense of entitlement; murder and justice.
With a pacy plot, I was instantly taken in by the first chapter.  It is described as a psychological suspense novel, however it felt more like a murder-mystery combined with a crime thriller to me.  Sarah, the main character, her foster mother (Mim) & neighbour (Caitlyn) join forces to investigate recent murders ….the police involvement seems more in the background as Sarah unwittingly becomes entangled in the killers web!
The characters were likeable and I found myself really drawn to Sarah especially. She is determined, courageous and maybe slightly reserved at times – or perhaps protective is a better way to describe her.  She doesn't want to get hurt and feels the same about those she cares about.  Mim, her foster mother is very much the same and would go to any length to ensure those she loved were kept safe – even when a knee injury should have prevented that!  Mim felt useless when Sarah needed her most – this came across within the writing and the reader can feel that sense of urgency when the killer starts closing in.
I did figure out who the killer was before it was revealed, however my list of suspects started off with quite a few due to the clever way the author would lead you in one direction only then taking you completely off track with another piece of information.  The suspense definitely kept me on my toes!
The antagonist almost comes across as a killer with a conscience – but also has this twisted sense of entitlement about themselves.  The motive being greed but also escaping from those who they feel have oppressed them throughout their life.  I am still not sure how I felt about the ending…but I would leave that up to the readers to decide.  For me, it just did not fit as well as I expected….but it did make me question things…so in that respect, the author achieved what she set out to do….played with my mind a little bit!
Would I recommend this book to others?  I think my answer is clear from my review….that would be a Hell Yeah from me!  With twists, great characters and a story that keeps you guessing – Ward Zero is definitely a book that will draw you in!  Click the link below and check it out, #bookjunkies!
[amazon template=iframe image&asin=B01KQRH0TK]