My guest reviewer, Claire Knight, has sent me a fantabulous review of J.S. Carol's The Killing Game. I absolutely LOVED this book and you can find my review here. No long intro needed, let's just get stuck in!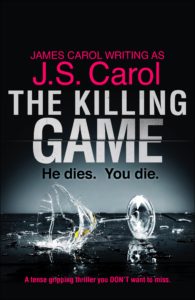 Synopsis:
Imagine you are having lunch at an exclusive restaurant, filled with Hollywood's hottest stars.
And a masked gunman walks in and takes everyone hostage.
You must bargain for your life against a twisted individual who knows everything about you.
He also has a bomb set to detonate if his heart rate changes.
If he dies. You die.
You have four hours to stay alive.
What would you do?
Claire's Rating: 5/5
Claire's Review: 
How can an innocent business lunch turn into a three hour nightmare? Take a group of Hollywood people-to-know and throw in a bomber on a mission, what that mission is -is down to him…
The main character JJ is a fixer. What's a fixer I hear you cry! Well if I hadn't watch the US show Scandal, I wouldn't have known either. A fixer sorts things out, covers up scandals, puts a spin on exposed situations people in the public eye don't want in the public domain. They hide in the background, out of the limelight, just a phone call away.
"If anyone came up with a cure for stupidity, she'd be out of business"
The author's descriptions are brilliant! You don't realise how much is there as you read. I had great image of Alfie's restaurant, lots of clean lines, understated sophistication.
This book is so fast paced, I really did not want to put it down. When Kim at Bookouture sent it through, I read the first chapter to see and didn't stop other than real life in the form of two boys demanding attention.
I didn't realise I was holding my breath as the story climaxed through hour 3 and by the end of it, my heart was pounding! This book would translate perfectly to the big screen!
I haven't read any James Carol novels before despite having a couple of the Jefferson Winter books on my Kindle. Saying that The Killing Game was a fantastic book to pop my James Carol cherry.
Massive thanks to Kim Nash at Bookouture for sending me an advanced copy of The Killing Game to read.
I think it is safe to say….she liked it! A lot!  If this sounds like the type of explosive read you are looking for, click the link below!
[amazon template=iframe image1&asin=B01LXKJUNR]