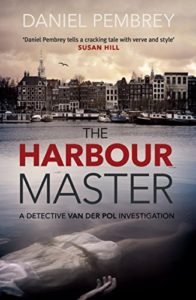 Synopsis:
Henk van der Pol is a 30-year-term policeman, a few months off retirement. When he finds a woman's body in Amsterdam Harbour, his detective instincts take over, even though it's not his jurisdiction. Warned off investigating the case, Henk soon realises he can trust nobody, as his search for the killer leads him to discover the involvement of senior police officers, government corruption in the highest places, Hungarian people traffickers, and a deadly threat to his own family..
My Rating: 4/5
My Review:
My thanks to No Exit Press for an ARC of this book.  I have chosen to read this book and below is my honest and unbiased opinion.
Ooooooh!  Now what a wee treasure this book is!  When I finished reading it, I was speaking to another reviewer and described Mr Pembrey as Amsterdam's version of Ragnar Jonasson! Why? Because this book was atmospheric and the descriptions drew me to the place in the same way that Mr Jonasson's descriptions in the Dark Iceland series made me want to visit Iceland!  Awesome!
Set in…well Amsterdam obviously, this book is riddled with power, politics, corruption and violence all for the sake of justice.  What I like is the fact that those you should trust, are often not the ones you can.  There was a minefield of questions bouncing around my brain and the suspense often had me breathless!
The story was broken into three parts with an even pace and a gradual build up in each section leading on to the next.  It was almost like reading three separate stories with a thread in each that lead to the other until we reach the conclusion in Part 3.  Each part had a purpose and I found myself struggling to put it down at times.
There was humour in the pages too, a dry wit which had me giggling from time to time.  This broke up the seriousness at times and was a welcome injection within the story-line.
Henk van der Pol is the main character.  Coming up to retirement and not well liked (or so it seemed) by his superiors, he often found himself using radical methods to get results.  He presented as cautious when it came to his colleagues and those around him as politics seemed to outweigh truth and justice in solving his cases. I am still not sure whether I like this guy, but the fact that I want to read the next book suggests there is more to this character that I want to find out about!
Rem Lottman was also an interesting character.  I did not trust him and was curious as to why Henk did…or did he?  He was mysterious and secretive.  But also, in a weird way, quite likeable.  How the author did this is beyond me!
Petra (Henk's wife) and Nadia (Henk's daughter) are two characters I want to know more about, too.  Petra seems to be always left behind while Henk is pulled away on police business- typical copper's wife!  I got the feeling that there may be more to her than what was revealed.  Nadia, or more specifically her boyfriend, Sergei also intrigued me.
There was suspense, intrigue, murder and mystery that I found very alluring.  It is clear from the end we will be seeing more of Henk in the future and I am keen to see what that will entail.  Do I recommend this book? You bet you sweet arse I do!
Head over to amazon and grab yourself a copy too!