I have to admit, I was a little jealous that my fabulous Guest Reviewer got her hands on an ARC of this book!  But also thrilled that she is sharing her review on my blog today!  It is The Beautiful Dead by Belinda Bauer and here are Claire's thoughts: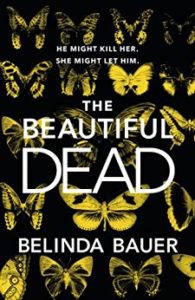 Synopsis:
There's no safety in numbers . . .
Eve Singer needs death. With her career as a TV crime reporter flagging, she'll do anything to satisfy her ghoulish audience.
The killer needs death too. He even advertises his macabre public performances, where he hopes to show the whole world the beauty of dying.
When he contacts Eve, she welcomes the chance to be first with the news from every gory scene. Until she realizes that the killer has two obsessions.
One is public murder.
And the other one is her . . .
Claire's Rating: 5/5
Claire's Review:
The first thing I have to say about Belinda Bauer's The Beautiful Dead is I LOVE THE COVER!!!! It's so simple and yet so striking with the yellow butterflies against the stark black. I'm so glad I got to read the book as a paperback, seeing the cover everyday! I've not read many of the author's books, Rubbernecker last year and Blacklands when it first came out in 2009. I wasn't as keen on Rubbernecker as I was on Blacklands but I was sold on this stunning cover for the Beautiful Dead – I couldn't resist it!!! And I wasn't disappointed either!
What an opening chapter. The atmosphere is created brilliantly. You could imagine the whole scene playing out on the big screen and as for the line "I am a friend….I am not fierce", a unique way to introduce our serial killer! Someone once said "Life is Art" (don't ask me who, I've googled it but I couldn't find a definitive answer); but this killer thinks "Death is Art". He doesn't have an MO, other than the body must be on public display.
All the characters felt real. Eve has many battles to fight, her arse of a boss, the younger blonde trying to take her place in front of the camera, her father with dementia, the killer who's taken a shine to her. And Mr Elias, we don't learn much about him, he comes off as a bit of a sleaze to start with but the things we do learn are heart breaking. I really felt for Eve's dad Duncan; dementia is a horrible condition and the way every so often he'd have a moment of clarity and remember everything to loose it again so quickly is saddening.
It felt like a steeplechase of a book, fast paced from the start and every so often, there would be a new hurdle, the next murder, the next very public murder that our killer wants Eve to "review". The writing is brilliant, perfectly crafted to grab your attention and keep it captive right to the end.
I absolutely loved this book; engrossed throughout. If you've not read any of Belinda Bauer's books, I highly recommend this one to start with.
Massive thanks to Becky Short at Transworld for my advanced copy of The Beautiful Dead.
Thanks so much, Claire for this awesome review!  You have certainly sold me and I have added this book to my wishlist.  The Beautiful Dead is currently available for pre order and out 17/11/16 – click the link below to grab yourself a copy #bookjunkies!
[amazon template=iframe image&asin=B017IEP1RW]