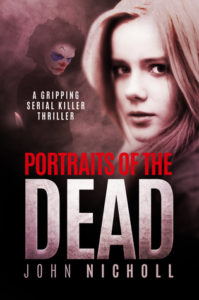 Synopsis:
The greater the evil, the more deadly the game…
When Emma awakens in total darkness, she is aware of her nakedness. Injuries. A bed not her own. A blindingly bright light suddenly pierces the blackness and a disembodied male voice calls her "Venus". Venus – the goddess of love, beauty, sex and desire. He says she is "Venus Six". What does this predator want from her? Can she outwit the masked man who demands to be called "Master"? Or will he be looking for Venus Seven?
Detective Inspector Gravel finds himself floundering when a local nineteen-year-old university student is abducted and imprisoned by a sadistic serial killer who has already tortured and killed at least five young women.
My Rating: 3.5-4 /5
My Review:
My thanks to the author, John Nicholl for an ARC of this book which I have chosen to read/review and express my honest opinion on.
I struggled with rating this book for a variety of reasons and so I have balanced myself precariously on the fence between 3.5 and 4 ⭐️'s.  My explanation for this rating should become much more clear as you read my review.
Set in Wales, Portraits of The Dead has an underlying theme of power and control – loss of, desire for and later the gaining of – throughout the plot.  Fear, frustration, anger, loss, submission and justice also adorn the pages as we are lured into a web of absolute terror.
This is a fairly fast-paced storyline.  The reader is immediately drawn in by the abduction of Emma and what her captor plans for her.  However, it took me awhile to really get into the story as I had guessed the protagonist within the first 10% of the story.  It did, however have a serial killer thriller feel to it as I was both intrigued and repulsed by the killer who has one hell of a twisted mind!  There is no much more I want to say about the killer, in relation to comparisons, but to do so would spoil the story so I will keep a lid on it! ?
What I liked about this novel was the character development.  DI Gravel was particularly well written and although he was a little brash to start out with, his sense of justice and search for the truth, quickly won me over.  I also really liked  Sergeant Rankin – maybe a little more than Gravel if I am honest.  He had a very old school feel about him – a village bobby type of copper – who would go the extra mile to gather the evidence and bring in the criminals.  What niggled me a bit about Rankin's story is the fact it felt unfinished and rushed.  Again, I can't go into too much detail – but I think you will see what I mean when you read this book ….or maybe that is just me!?
I did not really connect with Emma at all.  I think she started off as a strong character and I could really feel the fear and terror she must have been going through, however I sort of lost interest in her towards the end.  The killer does a great job of depersonalising her and turning her from Emma- the abducted girl, into Venus the slave/submissive.  There were times when her character's strengths were revealed, but these seemed short-lived so I struggled to sympathise with her.  That sounds really cold of me! Maybe I have sociopathic tendencies too! ?
The killer was an interesting…dare I say …fascinating individual and I really enjoyed the dynamics of this character.  How this person maintained various persona's to avoid detection and the inner turmoil of their familial dynamics made for a really good serial killer!  I actually despised this individual, yet found myself really sucked in – wanting to know more as I turned each page!  What is wrong with me?!
The writing style is easy to follow and there is an intensity which the reader immediately feels.  I thoroughly enjoyed this aspect of the book.  There were also a few twists which I did not see coming!  Well played, Mr Nicholl!
I was slightly disappointed with the ending if I am honest.  The whole book was good in the main, but I felt the ending was a little rushed and left me with more questions than answers.  Despite this, it took me two days to read so I don't want it to seem like I did not like this book, as I did.  I just wanted to give a balanced view of why I rated it the way I did.
Would I recommend this book to fans of serial killer thrillers?  Absolutely!!  I have a few other books from John Nicholl that I am really looking forward to reading now.  If you want to delve into the mind of a serial killer, click the link below!
[amazon template=iframe image&asin=B01KEANZU2]