Eeeeeeek!  Mahoosively excited to be sharing my fantabulous Guest Reviewer: Claire Knight's blog tour review for Caroline Mitchell's #LoveYouToDeath! I previously reviewed this BRILLIANT book, and you can catch my review here. So let's find out what Claire thinks…..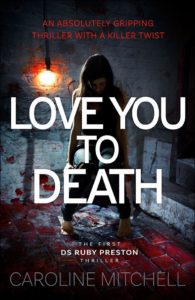 Synopsis:
'I'm not your mother. You're a monster. I don't want you'
Women who gave a child up for adoption are being killed. A knock at their front door begins a nightmare from which they will never wake up.
For Detective Ruby Preston and her team, it is a race against time to connect the dots before the killer can strike again. But when Ruby receives a sinister email, the case takes a terrifying personal twist.
Could the clues to the identity of the killer lie in Ruby's own past?
Who can she trust with her secrets?
And could Ruby be next?
Love You to Death is a serial killer thriller packed with twists. If you like Karin Slaughter, Angela Marsons and Val MacDermid, discover Caroline Mitchell's new series today – at a special launch price.
Claire's Rating: 5/5
Claire's Review:
What an opening chapter! Lucy is deranged!!! Hanging on to some sort of reality by a thread. The more I read about Lucy, the more unhinged she became! Just don't open the door to Lucy!!
Enter DS Ruby Preston. She isn't a clean cut copper, she's got skeletons in her closet starting with her relationship with bad boy Nathan Crosby. That's one addiction she's going to have kick if she wants respect in the police! But she's good at her job and if anyone is going to find Lucy, it'll be Ruby!
I love the chemistry and tension between Ruby and Nathan, your classic "will they, won't they?". I hope we see more of this relationship in future.
So much happens in a short space of time. From the first chapter with Lucy and her "mummy", you're out of the blocks, running the course of the story to the finish line. Having read the Jennifer Knight (no relation) series, I'd expected a fast paced story from Caroline Mitchell but Love You To Death takes you up a notch. It's a book that just keeps on giving in a murderous, twisty turny kind of way. Just stunning!
This girl Ruby is going to go far and I can't wait to read more about her! I was very excited to see a post from the author saying she'd finished the second in the series! CAN NOT WAIT!!!! Eeeeekkkkk!!
Huge thanks to Bookouture and Netgalley for my copy of Love You To Death.
Woohoo!  Bloody brilliant review, Claire!  If you haven't bought this book yet….#WhatIsWrongWithYou?!  Click the link while it is still 99p #bookjunkies…..you will kick yourself if you don't!
[amazon template=iframe image1&asin=B01LYPU1MW]