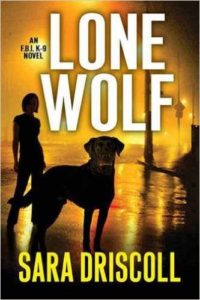 Synopsis: 
In the first book in a thrilling new series, FBI Special Agent Meg Jennings and Hawk, her loyal search-and-rescue Labrador, must race against time as they zero in on one of the deadliest killers in the country . . .
Meg and Hawk are part of the FBI's elite K-9 unit. Hawk can sniff out bodies anywhere—living or dead—whether it's tracking a criminal or finding a missing person. When a bomb rips apart a government building on the National Mall in Washington D.C., it takes all of the team's extensive search-and-rescue training to locate and save the workers and visitors buried beneath the rubble.
But even as the duo are hailed as heroes, a mad bomber remains at large, striking terror across the Eastern seaboard in a ruthless pursuit of retribution. As more bombs are detonated and the body count escalates, Meg and Hawk are brought in to a task force dedicated to stopping the unseen killer. But when the attacks spiral wide and any number of locations could be the next target, it will come down to a battle of wits and survival skills between Meg, Hawk, and the bomber they're tracking to rescue a nation from the brink of chaos.
My Rating: 5/5
My Review: 
My thanks to Jen J Danna (one part of author Sara Driscoll) and Kensington/Netgalley for a review copy of this book.
OMFG I adored this book!  My reading mojo had all but disappeared…and then along came Hawk & Meg from the FBI K9 Unit and BOOM – my mojo was back!!
Set in Washington, DC the reader is confronted with revenge, misplaced feelings of being wronged, fear, loss, retribution, the fight for survival, courage and justice.
For me, the plot was interesting, fast-paced, emotive and intense!  Told from the third person POV, I thought this book might be "just another bomber-on-the-loose" story.  I was wrong!  Having Hawk and the FBI K9 Unit involved, took this story to another level and really had my heart racing at times!
I am a sucker for characters, and even moreso when one of the main characters is a four-legged, black labrador named Hawk! Awwww….I loved this dog!! I thought it was a clever tactic to draw the reader in to the story and it was pretty awesome to recognise working dogs of this caliber for the dangerous and heroic job that they do!  I adored the fact that Hawk was a rescue dog, who then "rescued" the main character – his handler, Meg – after she suffered a tragedy. Awwww again! Just brilliant!   #GottaLoveHawk
Meg is another brilliant character.  She hates showing weakness, is determined and extremely clever, but distrusts those who she feels might be out to get something.  I loved the bond between Meg and Hawk and really felt it as the story progressed.  She has a great relationship with her sister, who trains dogs- as well as her colleagues (Brian and Lacey, another K9) and her protective streak comes out when those she cares about may be at risk.
Clay McCord was another great character.  A journalist who becomes entangled in the case.  Is he trustworthy?  He comes across as genuine and sincere, but there is always a niggle that perhaps he is using people/situations as a means to an end.
The Spree Bomber– don't worry…no names…I won't spoil the story!  I thought this character was well written and believeable.  As a reader, I could almost sympathise with them but their actions just blew that sympathy right out of the water!
This book was highly emotive, gripping, intense and full of suspense from the beginning straight on through to the end!  Would I recommend it?  OMFG that is a no brainer!  Hell yeah, I would!! I loved it so much, it is my current #BookOfTheMonth! This is the first in the FBI K9 novel series and I am hooked!  I cannot wait to see what is next in store for Meg & Hawk!  Out on November 29th, you can pre order your copy via the link below!
[amazon template=iframe image&asin=B01CMGS3PI]