? Happy Publication Day ?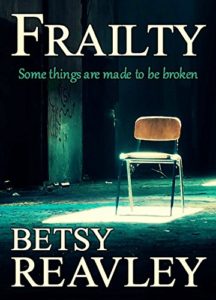 Synopsis:
How far would you go to protect your family?
Danny and Libby are about to face every parent's worst nightmare.
When eight-year-old Hope Bird disappears without a trace, from the idyllic village where she lives, life for her family will never be the same again. Her parents know she would never have gone off alone and the police have no idea where she is. Then a child's shoe is discovered and the case takes an unexpected turn. Soon a suspect is identified but this is only the beginning.
Will they ever find Hope?
Frailty is a haunting, gritty, psychological page-turner about the choices we make.
My Rating: 3.5-4 / 5
My Review:
The ARC of this book was provided by Bloodhound Books.  I chose to read/review and give my honest opinion.
I think I need to first explain my rating of this book …and Betsy Reavley…you always do this to me!  As I psychological thriller, I would rate this a 3.5 ⭐️ read.  As a crime thriller, I would rate this 4⭐️.  For me, there just was not a huge psychological edge to this story – but it definitely has the crime thriller feel with suspense and surprise throughout the chapters.
The story is set in Ickleton, Cambridge and we come across a variety of themes such a guilt, blame, desperation, loss & despair.  The main undercurrent of the book however seems to be hope and hanging onto /having the belief that the child (also named Hope) will be found. There is also the different perspectives of anguish felt from both the parents in this story, and the lengths that both will go to in order to find their daughter.
I really enjoyed the main story-line of this book.  I found the first 15-20% to be quite slow and if I am honest, I did question whether or not some of it was needed as it did not seem to add anything to the overall story.  There was a gradual build up of suspense which did add an emotional side to the plot.  The story was also told in various points of view, which initially was confusing – but eventually I grew used to.
We come across a diverse range of characters in this novel and a few stood out more than others.  Danny and Libby Bird were well written and demonstrated different perspectives on coping with the abduction of a child.  There was also some good descriptions of the dynamics in this relationship and the lengths that both would go to for the answers. Hope Bird was also well written and a few surprises drew me even closer to this character.  Told from the perspective of an 8yr old, it reminded me a little bit of Room by Emma Donoghue.  I loved that book, so was particularly interested in how the author could maintain the child's perspective through the narrative.  Well done Mrs Reavley!  It was fab!  I am not sure I connected at all with Simon (Danny's best friend) or whether his part was believable.  And I was also surprised that at less than a quarter of the way into the novel….I knew who the baddie was!  Just call me Detective Holten!!  ?? And I must be an Ice Queen as I have seen comments of tears, and high emotions when reading this book….but I just did not feel that…not even a welling up….I was more relieved than emotional….I accept, however, that it really just could be me! ? ❄️ #TotalIceQueen ❄️
Finally, hats off to the author for doing her homework as she got the criminal justice /police procedure side pretty much spot on!  Although it is not something I expect in novels – they are a work of fiction after all… but if they are way beyond the believable, it does put me off!  Not in this case!  Betsy Reavley was right on the mark!
So if you are into crime thrillers, I definitely give this a Hell Yeah recommendation – it is emotive, full of suspense and raises the levels of anxiety in the reader.  Head over to amazon and check it out via the link below!
[amazon template=iframe image1&asin=B01M2CMC3Z]