Today on my blog, Claire Knight – my awesome guest reviewer, shares her thoughts on Owen Nichols' Fifty Two Weeks Of Murder!  When I was approached by the author for a review, I was immediately drawn to the cover of this book! I still am!  This is on my TBR, so I have not read Claire's review as I post it….but I have no doubt my little possum has shared her thoughts about what she enjoyed with the fervour I have come to love in her reviews!  Have a read #bookjunkies!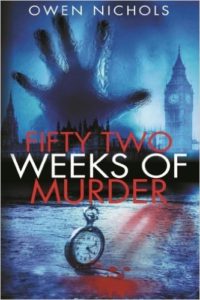 Synopsis: 
Lord Buckland is wealthy and privileged, but seeks a higher purpose. Each week, he will offer a prize of five million pounds to the best entry. To win, you need to show creativity, originality and desire, matching your work to the theme of the week. Killing someone is the easy part. Making your work stand out is the challenge. Assistant Chief Constable Anders is tasked with hunting Lord Buckland before his games wreak havoc. An astonishing new addition to the pantheon of great heroines, Anders will be forced to confront the very nature of her existence as each week brings a new horror. Fifty Two Weeks of Murder is a fresh voice in crowded genre. Brutal, compelling, thought provoking and challenging, readers will be left breathless by the shocking twists and turns of this truly original work.
Claire's Rating: 3.5-4/5
Claire's Review: 
When I read the title of this book, it definitely piqued my attention…"Fifty two weeks of murder", what does that say to you? For me, I expected a bloodbath! What I got was unexpected!
The Government had created a brand new crime busting team and boy do they have their work cut out for them! Lord Buckland is looking to cause chaos by challenging people to carry out the most audacious murders. But this revolutionary is nowhere to be found other than his weekly inspirational post and those "inspired" by his challenge to live out fantasies to win £5m are out bumping off innocents. I did question why this new team had an deputy and assistant chief constable heading it up; but given the controversial and high profile nature of this initial case, the authority, respect and experience of these higher ranks are definitely needed! The murders (and attempted murders) are all different! Crucifixion, battery by antique axe, Shogun style samurai attack! And that's just in the first few chapters, the murders just get more and more imaginative, inspired by art and literature.
Anders, the main character, is an interesting one and the more I learnt the more I was intrigued. One of her colleagues says "She walks in darkness every day and her light burns it away". That is one hell of a way to describe someone you've known only a few weeks. At the beginning, intertwined with the main story are chapters featuring our main protagonist's interview give an insight of Anders' history which is eye opening!! She's a formidable individual who's been through a horrific experience and lived to tell the tale, sporting the scars of what she's been through.
As I started, I wasn't sure about the story but it could have been a hangover from my previous read. It had a descriptive narrative and there was a lot of scene setting. But as the book went on, my attention was grabbed; the initial scene setting was needed. The author definitely did research into the dark gruesome side of history.
The story reaches a huge crescendo, leading to a sudden jaw dropping silence of an end!! The whole of the final week left me reeling!!!! Parts of that last week seemed slightly far-fetched however it fitted with the action and build to the almighty finale – call it author's poetic licence. I sat reading with my hand firmly clamped to my mouth in shock!
If you like your crime thrillers, this is something a little bit different.
Many thanks to the author Owen Nichols and CrimeBookJunkie Book Blog for an ecopy of Fifty Two Weeks of Murder.
Mahoosive thanks to Claire for taking the time to review for the author! If this review has piqued your interest, click on the link below and grab yourself a copy! 
[amazon template=iframe image&asin=B01DJ1PU56]