Today on my blog, I have a Guest Review post from the fabulous Claire Knight! She is reviewing Adam Maxwell's Dial M For Monkey! Here are her thoughts: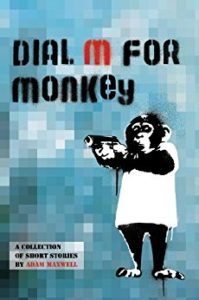 Synopsis:
Adam Maxwell's first collection of short stories is inventive, funny, dark, and hugely entertaining. Effortlessly fusing pop culture, gunplay, and simians, Dial M For Monkey contains a vibrant mixture of short stories – and short-short stories including 'Happiness is a Warm Gun' which featured in McSweeney's Internet Tendency.
Claire's Rating: 3.5/5
Claire's Review:
I picked up Dial M for Monkey after having parked a book that I was struggling with and read a couple of short stories. It might be real life telling me I need to stop escaping into a book for a while given we're in the process of moving house along with the other things that demand attention as a working mum! I'd only just finished going over the Different Options For Selling Your Home, and then I was back to the book again! At some point, I will put the book down and start checking off the list of things to do before the move. Things like getting the bathroom done up at the new place (a friend told me about how they got theirs done with GlassShowerDirect.com providing the glass, and it looks stunning, so that has been inspiring) to cleaning up this house. Another friend told me that I should really be looking at my credit score before we move to ensure that I can get a good deal on my mortgage. When she bought her house, she didn't have a credit card because she didn't have a Social Security Number (SSN) when she moved over to the US. Luckily, she was able to find a credit card that didn't require you to have an identity number (read more here about that if you want). Due to her having such a hard time getting a mortgage loan, she's worried I'll have similar trouble so she's making me check that everything will go swiftly before we move. It's really kind of her, but I don't know when I will be prepared to let go of my reading escapism so easily!
I was actually looking for another short story on my kindle to read. I wasn't bothered what, just something to read and Adam Maxwell's set of flash fiction stories appeared in my search and I thought why not! I've come to enjoy flash fiction after subscribing to Louise Jensen's Fabricating Fiction blog where she frequently posts a very short story inspired by a photo through the Friday Fictioneers.
Dial M for Monkey is very different to my usual read, all the stories are a few pages long so I could pick up and put down easily when I had the time and inclination. Each story is entertaining with an ingenious and funny title; you would never guess what "Shooting Jelly With a Shotgun" was about!!
Not every story is crime related but there is pick pocketing, murder, a wee bit of sex (!), and it did make me laugh out loud at points!!
I loved the monkeys on the underground, you have to read that one. And as for selling a house to chickens!!! This author has a very strange but entertaining sense of humour.
I wouldn't have discovered this book if the author hadn't contacted Crimebookjunkie for a review of The Dali Deception. I really enjoyed that book and this is entirely different but still an enjoyable read! I'll be definitely be reading more from Adam Maxwell!
Huge thanks to Claire for this cracking review! If Adam Maxwell's book sounds like something you are keen to read, just follow the link below!
[amazon template=iframe image&asin=B004O0UEJY]