Awww…I am a little sad that I can't keep this going daily as I have read thousands of books and could easily fill a year long, daily post talking about my #AllTimeFaves.  As always, if you want to follow the full event, because there are SO MANY bloody awesome reads/ list of recommendations from some superb bloggers, make sure to friend Charlie Fenton on Facebook to be added to the secret club!  Links to full reviews (where applicable) and amazon will be included below so you can find out a bit more!
You may have noticed that I have not included some of the bigger names in my #AllTimeFaves list.  That is not because they are not my faves….I just wanted to shout out about some of the lesser known authors you may not have come across yet!  But just so you know, I also LOVE the likes of Martina Cole, Ian Rankin, Mark Billingham, Peter James, Linwood Barclay, Karin Slaughter, Karen Rose, Kimberley Chambers, Patricia Cornwell, Val McDermid as well as Casey Kelleher, Nicky Black, Jeanette Hewitt and Tom Bale to name but a few– I urge you to check these authors out too!
So here are my #FinalFive…..EEEEEEK!!….#AllTimeFavourite Crime/PoliceProcedural books….
CrimeBookJunkies All Time Favourite Crime/Police Procedural List – #FinalFive
Denzil Meyrick's – Whiskey From Small Glasses.  The awesome Emma Clapperton (another author you should be checking out!) recommended I read this book and I am so glad she did!  DCI Daley is a fantastic character and the story lines in this series just keep getting better and better.  This is the first in the series and one that has stuck with me. I read this book even before I started reviewing!  A brief synopsis:  "Love, betrayal, fear and death stalk the small town, as Daley investigates a case that becomes more deadly than he could possibly imagine, in this compelling Scottish crime novel infused with intrigue and dark humour."   Easily one of my #AllTimeFaves as a series and a novel.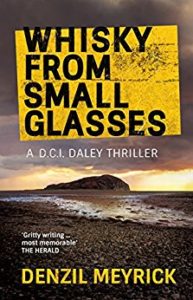 My Thoughts: Whiskey From Small Glasses        Amazon Link: UK http://amzn.to/2fo0tYk
Stephen Edger: Redemption — Eeeek!  #MarkBaines *swoon* – my fictional boyfriend – don't judge me peeps!  I love this series and Redemption (Book 2) was my favourite in this trilogy.  Mark Baines is a character that really grabs hold of you (I wish!) and you find yourself drawn into his story from the get go!  This has to be one of my #AllTimeFaves for the simple reason that as unbelievable as the trouble this character finds himself in….you just believe it!  And you are rooting for Mark Baines from first page to last.  I am still hoping beyond hope that Mr Edger brings Mark back — as I thought this character and these books were just superb!  "Conspiracy, torture, blackmail and revenge…Redemption is the breath-taking follow-up to the acclaimed Integration."  Again, this is another book I read before my blog and so below you can find my GoodReads review and a link to amazon.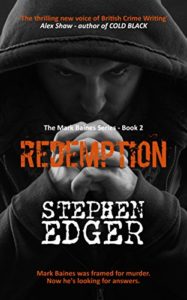 My Review: Redemption        Amazon Link- UK: http://amzn.to/2f5CkL8
Robert Byndza-  Dark Water — DCI Erika Foster series — OMFG!!  I have been a fan of this author from Day 1 and absolutely love this series, but Dark Water has to be my #AllTimeFave.  As amazon says, DCI Erika Foster is "….fearless. Respected. Unstoppable. Detective Erika Foster will catch a killer, whatever it takes."  She has her demons, but this book sees her overcoming some of the past and definitely demonstrates her strength in character.  The plot is a masterpeice and really had me on the edge of  my seat.  My full review and a link to amazon can be found below!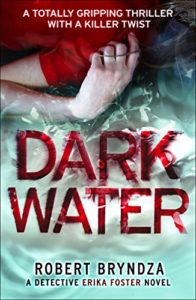 My Review: Dark Water       Amazon Link – UK:  http://amzn.to/2f5HmHh
Tony Parsons – The Murder Bag — wow! Wow! WOW!   This was a debut novel and soon became a fast favourite! DC Wolfe is another awesome character.   Again, I had not even been reviewing books properly when this came out so can only say what I commented on from on GoodReads.  A brief synopsis to pique your interest:  "Twenty years ago seven rich, privileged students became friends at their exclusive private school, Potter's Field. Now they have started dying in the most violent way imaginable."   There was just something about this book that has stayed with me and made me a fan of this author from the get go! A link to my thoughts on Goodreads and Amazon below.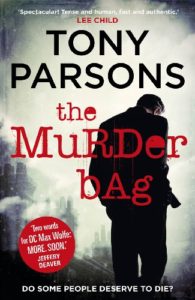 My Thoughts: The Murder Bag                 Amazon Link- UK: http://amzn.to/2g2vpiH
Alison Baillie – Sewing The Shadows Together ~ this is a great story, a proper story that needs to be absorbed and read without distraction.  From my review: First and foremost, I have to say that this book took my breath away! The writing style and plot had me hooked from the first few pages. The twists, characters and mystery had me gripped to the very last page where we learn the truth behind the 30 year mystery!  This was also a debut novel that totally blew me away and has become an #AllTimeFave!  Check out my full review below and the link to amazon to grab a copy for yourself!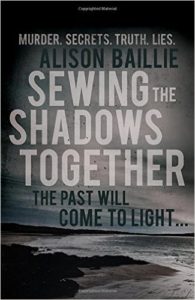 My Review: Sewing The Shadows Together      Amazon Link- UK: http://amzn.to/2gAom46
So that is the final five but certainly not the end of my #AllTimeFaves — I am certainly very lucky (and believe me I do not take it for granted) to be able to read and to come across some absolutely brilliant and talented authors through blogging. I hope you find a few new authors and be sure to #PayItForward by leaving a review.  I would also love to hear your thoughts on any of my full 20 or even your own #AllTimeFaves so leave a comment!