It is coming down to crunch time!  Day 3 of TBC's Event and I have another FIVE most awesome books that you #CrimeFictionAddicts must read!  As per previous days, if you want to follow the full event, because there is an absolutely fantabulous list of recommendations from some TOP bloggers, make sure to friend Charlie Fenton on Facebook to be added to the secret club!  Links to full reviews (where applicable) and amazon will be included below so you can find out a bit more!
Sooooooo….In no particular order, here are my next five #AllTimeFavouriteCrime/PoliceProcedural books….
CrimeBookJunkies All Time Favourite Crime/Police Procedural List 
Caroline Mitchell's : Love You To Death…OMFG…this is a new series from Caroline that does not involve ghosts & ghoulies!  I really adore the DC Jennifer Knight series– Check out my Time To Die review — bit of a twist –but DS Ruby Preston is something special!  Just like the tagline says, it is an "absolutely gripping crime thriller with a killer twist" .   DS Preston is not your average copper but she is now up there with my #AllTimeFavourite female detectives! She is edgy and balances on a fine line with the choices she makes.  There is abandonment; damaged childhoods; shame; guilt; secrets; betrayal; a yearning for answers; violence and hope…all woven in the pages of this book and it is a series that I just KNOW will get better.  The link to my full review and the link to amazon can be found below!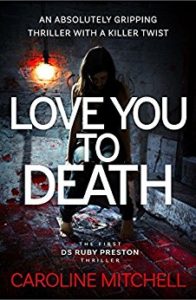 My Review: Love You To Death       Amazon Link– UK: http://amzn.to/2f3wdad
Alan Jones' – Blue Wicked— this is not a book for those who can't stomach some hard-hitting, gut wrenching descriptions, but it is more than worthy of being one of my #AllTimeFavourites.  There are some tough scenes involving animal cruelty which really get you …but it is needed for the story line and it is not done in a gratuitous way.  The graphic and gruesome descriptions probably disturbed me more than any of the murders I read about!  But they serve a purpose and set the scene for Eddie, the main character, to take his Vet hat off and put on a detective hat to try and solve a crime!  This is one character and story that has stuck with me and although Eddie is not a detective per se, he certainly ranks with some of the best!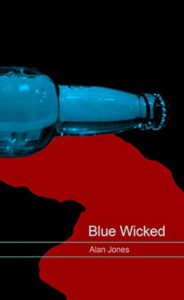 My Review:  Blue Wicked   Amazon Link: UK  http://amzn.to/2fZYxam
Matt Brolly's – Dead Lucky.  I love this series and DCI Lambert is another detective that I always get excited about when I hear another book is on the way! Dead Eyed was the author's debut/ the first in the series, but the Matt really upped his game with this sequel!  I was #DeadExcited with the fast paced plot; #DeadCurious about who The Watcher was; #DeadImpressed the author managed to fool me; #DeadSurprised when the killer was revealed and felt the ending was…well…#DeadPerfect!!  If you want to know more about why this is one of my #AllTimeFaves then check out my review below!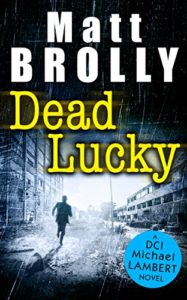 My Review: Dead Lucky       Amazon Link: UK http://amzn.to/2ghfZYI
Col Bury's – My Kind Of Justice…what is not to like about Col Bury!  This was Col's debut crime novel and it really was friggin awesome!  Not a typical vigilante thriller– this book was a pleasant surprise to come across. The plot is well thought out mixing past mistakes with the future repercussions. I enjoyed  the unexpected twists and turns which made my stomach flip at times. I was left wondering whether or not the past would catch up to DI Striker, whether his friends and colleagues would turn on him, who would end up dead next…too many to mention but all gripping and full of suspense!  For this reason, it has definitely become an #AllTimeFave — and now I want MORE!  #BringBackStriker!!  You can read my full review below!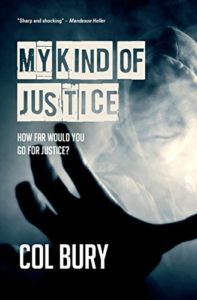 My Review: My Kind Of Justice       Amazon Link: UK http://amzn.to/2gdhO7i
A.A. Dhand – Streets Of Darkness — Oh My God What-A-Book!! This has been the best debut of 2016 that I have read so far and also one of my #AllTimeFave crime thrillers!  Eery, dark and very gritty– Themes of racism, retribution, a haunting past or two, drugs, justice, fear, chaos and just what lengths will a person go to in order to save someone they love — oh my giddy aunt peeps– I could go on!  Each of these strengthened the story and delivered that gut-wrenching blow that distinguishes greatness from mediocrity in a crime fiction novel.  Read my full review below!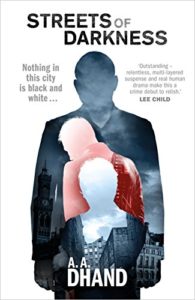 My Review:  Streets of Darkness       Amazon Link: UK http://amzn.to/2fmkFu0
Right…so that is my five #AllTimeFaves for today….really looking forward to sharing my final five tomorrow!  Hope you pop by and maybe add a few of these badboys to your TBR!