For the next four days, I will be posting 20 of my *All Time Favourite* crime thrillers/police procedurals (5-a-day) as part of an event on THE Book Club (TBC)- a secret bookclub on Facebook.  To see the whole event and find some awesome Crime Fiction recommendations, friend Charlie Fenton on Facebook, via the link here and join TBC!  My thanks to Tracy Fenton for asking me to participate.
In this post, I will be providing links to my reviews (where applicable as some of my all time faves were read well before I started this blog 18 months ago!) and a little blurb about why I liked it so much– just in case you do not have the chance or inclination to join TBC or the FB event!  I will also include the amazon links to save you trawling through amazon in the search for some of these AMAZING crime books!
So here we go!  The faves are not listed in any particular TOP 20 order.  They are just listed randomly – I hope to pique your interest and perhaps interest you in a new author for you TBR's!
CrimeBookJunkie's 20/20 All Time Favourite Crime Thriller/Police Procedural
Graham Smith's #DIHarryEvans series.  I love the whole series, but if I had to chose my #ATF, it would have to be I Know Your Secret.  DI Harry Evans is a character that you just hate to love. The stories are hard-hitting, full of #Booms and Mr Smith always opens with a #KillerHook that keeps the reader intrigued from start to finish.  Find out what I mean by reading this awesome Guest Post from Mr Smith called Character Assassination.  My full review of all the books/links to amazon can be found below:


Michael J Malone's #McBain series.  Another series which I absolutely adore – the characters, setting, plot-lines and OMFG moments are thrilling!  McBain is another DI which I am drawn to and the latest in the series: Bad Samaritan had me shouting at my kindle and is therefore my All Time Fave of this series!  You will not believe what happens and those who love this series will know exactly what I am talking about! Talk about a #Boom!! My full review of the McBain series (those on my blog at least) can be found below, along with links to amazon. Well worth a read #bookjunkies!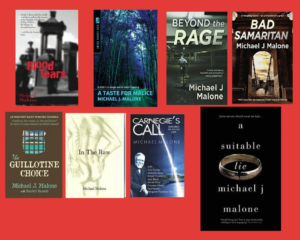 Douglas Skelton's #DavieMcCall series — OMFG!!  *Swoon* – I just love a bad boy and Davie McCall is soooo bad, but oh….so…..good! *fans herself* –  I started this series half way though so still have my reviews on the 1st two books to write- but talk about gritty, raw, and absolutely thrilling. McCall is not a police detective but he still manages to solve some crimes in this amazing crime series.  My All Time Favourite being the latest: Open Wounds.  I am still shocked by this one.  It bloody rocked!  Review(s) and/or amazon links below!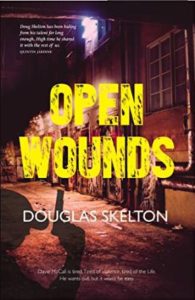 Craig Russell's Lennox series — ok, ok — I have read one book but I am seriously hooked and so Lennox (the first in the series) is definitely one of my All Time Favourites to date.  Another Scottish author (and I have just realised that the previous three are also Scottish! LOL– #SAS comes to mind- #ScottishAuthorStalking) – The book is set in the 1950's, is dark, witty and full of kick ass action!  Just what I love in a crime thriller.  He is a PI who uses unorthodox methods to get results. The fact that he is Canadian but living in Glasgow had no bearing on my choice…I swear! This series is going to get better and better – I can just feel it and based on what I have read so far -I am excited to see what is next in store for Lennox!  I have a lot of catching up to do though — as there are five books so far in this series.  Below is my review of Lennox and the amazon link so you can check it out for yourselves!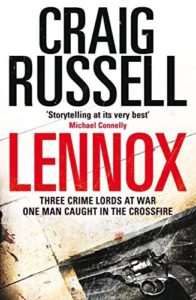 Mel Comley's Justice series.  It is hard to choose one of this series for my All Time Favourite but if push came to shove, I would have to say Dubious Justice as I liked the realism, emotion and rawness of the plot in this book.  I am not going to lie….I want to be Lorne!  She is strong, takes no nonsense from anyone and incredibly intelligent!  I cannot wait to see what is next in store for Lorne and her team.  This series will always be one of my All Time favourites! If you click on the title below, it will take you to my review – have a trawl on my website and Goodreads for my other reviews of this awesome series!

Woohoo!  So there are the first five in my 20/20 TBC #ATF Crime/Police Procedural's – and it was tough choosing as I have read SO many books…and loved a majority of them for different reasons! I have five more to post tomorrow, so I hope you join me to see what is next!!