Eeeeeeeeek!  I have been waiting aaaaaaaages to share my review of Angela Marsons Blood Lines and finally the day has arrived!  I didn't like this book at all….Nope….I friggin LOVED it! #BestKimStoneEver! 
Enough of my squeals of excitement..best get down to sharing my review!  Wooohooo!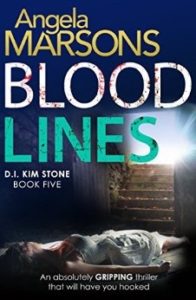 Synopsis: 
How do you catch a killer who leaves no trace?
A victim killed with a single, precise stab to the heart appears at first glance to be a robbery gone wrong. A caring, upstanding social worker lost to a senseless act of violence. But for Detective Kim Stone, something doesn't add up.
When a local drug addict is found murdered with an identical wound, Kim knows instinctively that she is dealing with the same killer. But with nothing to link the two victims except the cold, calculated nature of their death, this could be her most difficult case yet.
Desperate to catch the twisted individual, Kim's focus on the case is threatened when she receives a chilling letter from Dr Alex Thorne, the sociopath who Kim put behind bars. And this time, Alex is determined to hit where it hurts most, bringing Kim face-to-face with the woman responsible for the death of Kim's little brother – her own mother.
As the body count increases, Kim and her team unravel a web of dark secrets, bringing them closer to the killer. But one of their own could be in mortal danger. Only this time, Kim might not be strong enough to save them…
My Rating: 5/5  #AllTheStars ⭐️⭐️⭐️⭐️⭐️
My Review: 
My thanks to Bookouture and Netgalley for an ARC.
There are just not enough Eeeeeeeks! and OMFG's! in the world to express just how much I loved this book! In fact, this whole series is one of my favourites and whenever a new #DIKimStone book is announced….well I am not ashamed to say there may be *happy dancing* in my house!  And that's just my dog, Buster! ?
Set in the West Midlands, the reader will come across such themes as: manipulation, power; past trauma; regret; retribution and the seeking of truth/justice.
OMFG! This is a fast-paced, adrenaline fuelled read that will have you hooked from the start!  The opening chapter literally had me squealing with excitement as Alex Thorne is BACK and ready to sow the seeds of destruction on Kim and anyone else who stands in her way! The plot was more than plausible with a few strands to keep the flow on fire!  Angela Marsons has a wickedly wonderful way of making the impossible seem possible – that is not to say that these story-lines would never happen….and that might even be the scarier thought!
And now, my favourite part! Characters!!  Starting with Kim's team.  Yay!  I particularly have a soft spot for Bryant – love him! His devotion to Kim is second to none but part of me wonders will there ever be a time where he is pulled between choosing Kim and the job?  Could she ever go too far? #JustAThought – these are the things I think of when reading Angela Marson's books!!  Stacy and Dawson's presence are also notable – and I still think there is more to Dawson that we just have not learned yet. I did enjoy how his character developed that little bit more in this book.
Leo– awww, his backstory is horrendous; a vulnerable and angry man, you just really feel for him – especially after what Alex did to him in Evil Games. Gemma was another interesting character and screamed #WatchedYourBack at me everytime I came across her.  And Baldwin– WTAF?!  This guy needs a proper ass-kicking and I hope he gets what is coming to him…..#KimStyle!
Kim Stone – I want to be her!! Her character's strength and determination is chipped away at with Alex's predatory exploitation. We see a more vulnerable side to Kim, even more than what we saw in Evil Games.  Kim knows Alex is dangerous yet is drawn to her the same way an addict is drawn to their substance of choice.  But when Kim is on form…that can of whoop-ass is insurmountable! Hell Yeah!
Ahhhh…and then there is Alex Thorne  A true sociopath.  What worries me is how well Angela Marsons writes this character!  Should we be afraid!? A true ruler of her madness, Alex is the puppet-master pulling at people's strings and when she starts on Kim….well, I think she underestimated how far Kim would go to shove her back in her box!  And then stomp on it…and …well you get the picture!  As despicable as this character is…. I am drawn to her like a moth to a flame.  So much so that I would read a whole series on this character alone – she has so much to offer!  Bloody Brilliant!!!
This is quite an emotional read, mind-blowing in fact! The twists were superb and I had absolutely no idea who the killer was.  I also loved the #Booms ?? – proper how-do-you-like-them-apples / in-your-face BOOMS! Friggin awesome!
Do I recommend this book?  OMG, have you read my review?? Hell Yeah I do!  This series is one that ever lover of crime fiction/ psychological thrillers MUST read!  It sets the bar for others and will leave you reeling with eager anticipation for the next!  Interested?  Click the links below and hop on the #DIKimStone band-wagon….you will not be sorry!