It's my stop on the Black Hills blog tour! Whoop! Whoop!   My thanks to Thomas & Mercer and the lovely Claire McLaughlin from Little Bird Publicity for the ARC!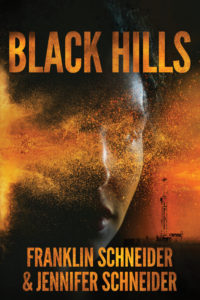 Synopsis:
When Brooklyn private investigator Alice Riley reluctantly travels to Whitehurst, South Dakota, to investigate an assault charge against her ex-boss's husband, she discovers more than just a tawdry small-town scandal. A surveyor for the local fracking operation, the accused was leading a dangerous double life—shacking up with a prostitute named Kim and overindulging in Whitehurst's deadly new drug, a powerful stimulant called "devil dust."
Out of her element in this badlands boomtown, Alice joins forces with the street-smart Kim, whose connections open doors some in town would rather keep closed. Working together, they descend into the heart of the local drug trade, unraveling a decades-old conspiracy that reaches to the top of Whitehurst's social strata.
As Alice comes closer to cracking the case, however, people around her start disappearing. With the case and her life spinning out of control, Alice embarks on a single-minded, dust-fueled campaign to expose the truth—an effort that will take her to the darkest places imaginable.
My Rating: 4/5
My Review: 
Black Hills authors, Jennifer and Franklin Schneider are a brother/sister writing team based in the US and this is their first published project together.
Set in Whitehurst, South Dakota this book is full of betrayal; secrets; control; deprivation; violence; drugs; corruption and revenge in the name of justice.
The story-line intrigued me when I was approached to review this book.  It is even-paced with a slow build-up but littered with hooks that keeps the reader guessing.  I was worried that it may not flow, given it has two authors – but I need not have feared as I could not spot any inconsistencies or breaks in the momentum!
It was the characters in this novel that really kept me turning the pages. Raw, real and very much believable, I really enjoyed the mixture of personalties that I came across as the story unfolded.  There were times I even forgot about the main players, as actually there were some more interesting supporting characters that stole the show!
Alice is one messed up Private Investigator! Throughout the whole book, I was not sure I was even drawn to her – but something just kept me intrigued.  She is a renegade, using unorthodox methods including drugs, alcohol, sex and violence to achieve her goals.  Despite her flaws, she has a strength in character that urges the reader to want Alice to achieve her aims by any means necessary! How messed up is that!?
Kim Holywhitemountain was a fantastic sidekick for Alice! The friendship forged with the common goal of proving Robert's innocence was addictive.  This character really stood out for me.  Her strength and courage on the outside hid the insecurities that plagued her daily.  Kim says it how she sees it but also has a side to her that others easily take advantage of.
Whitehurst, Hicks and the Sheriff also drew me in for different reasons.  Their qualities were ..well…not very likeable in the main but I still wanted to know more about each one.  The Sheriff especially!  WTAF is up with this guy!  Remind me never to visit his town! Ha Ha!  There are loads of other characters that had more of a lead role, but these are the ones that stood out to me most.
It took me a while to figure out where the story was heading.  A few twists threw me off guard, but I eventually ended up on the right track. I did feel the ending was slightly drawn out but luckily, not too much to cause me to lose interest!  I also enjoyed how some of the loose ends were wrapped up so that I was not made to have to guess how it ended up when the main conclusion was revealed!
Would I recommend this book?  That would be a definite Hell Yeah from me.  Greed, corruption, violence and betrayal are a sure fire way to keep me hooked!  Click the link below if this is a book that ticks all the boxes for you too!
[amazon template=iframe image&asin=B01DF0TM46]