Eeeeek!  I absolutely adore Jane Isaac and so I was thrilled to be asked to take part in the Beneath The Ashes blog tour!  A massive thanks to Lucy Chamberlain and Legend Press for an ARC.  Here is my review!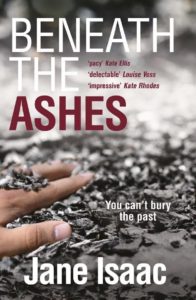 Synopsis:
The floor felt hard beneath her face. Nancy opened her eyes. Blinked several times. A pain seared through her head. She could feel fluid. No. She was lying in fluid.
When a body is discovered in a burnt-out barn in the Warwickshire countryside, DI Will Jackman is called to investigate.
Nancy Faraday wakes up on the kitchen floor. The house has been broken into and her boyfriend is missing. As the case unravels, DI Jackman realises that nothing is quite as it appears and everyone, it seems, has a secret.
Can he discover the truth behind the body in the fire, and track down the killer before Nancy becomes the next victim?
My Rating: 4/5
My Review:
We see the return of DI Will Jackman in Jane Isaac's latest novel, Beneath The Ashes.  Set in Northampton and the surrounding Warwickshire area, the reader is met with secrets; deception; revenge; and justice as Will and his team hunt for a killer.
OMFG this book started with a #KillerHook that captured my interest immediately!  The plot was evenly paced which lead up mercilessly to the main revelations.  There were some subtle twists that were hard-hitting and at times, really had the WOW factor for me!
DI Will Jackman is really beginning to grow on me.  He is a hands-on DI and this often causes him to miss opportunities – both in his personal and his work life.  And for those of you who are worried that you have to start from Book 1 in the series….well, this book can easily be read as a stand alone as the author gives you the important parts of the back story so you don't feel lost.  I particularly like Celia's presence (Jackman's daughter) but have this niggling feeling that something significant is going to happen either to her or that involves her in later stories…..hmmmm…Not sure why…I just do!
Nancy totally intrigued me.  Victim? Or was she involved in her boyfriend's disappearance?  The clever way this unravelled was unexpected, intriguing and really caught me off guard.  My Detective vibes were really off while reading this book and I was equally surprised when all was revealed!
There was a real mysterious feel to this police procedural and I throughly enjoyed how every time I questioned something, a few chapters later the answers came to light!  I think that if the pace was quicker and the build ups that little bit stronger, this would have been an easy 5⭐️ read!
Would I recommend this book and series to crime thriller lovers out there?  That would be a massive Hell Yeah –  so click the link and add this beauty to your TBR #bookjunkies!
[amazon template=iframe image&asin=B01CJPU6LQ]