? Happy Publication Day ? Rebecca Bradley!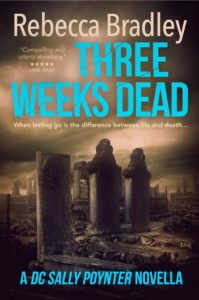 Synopsis:
When Jason Wells is faced with this scenario, he is confronted with the prospect of committing a crime that will have far-reaching consequences.
Can young DC Sally Poynter get through to him before he crosses that line, or does a desperate husband prove to be the case she won't ever forget?
A prequel novella, set before Shallow Waters, the first in the DI Hannah Robbins series.
My Rating: 5/5
My Review:
I was given this novella from the author, in exchange for an honest review.
I really enjoyed Shallow Waters  by Rebecca Bradley, so when given the opportunity to read and review this prequel novella…well I bloody jumped at the chance!
Set in Nottingham, we see questions being asked – what would YOU do?; grief; relationships and ethics all being examined in the pages of this story.
For a novella, this story was fast-paced and full of twists with a great opening chapter that really delivered the #KillerHook!  OMFG #bookjunkies – I seriously could not put this book down and managed to finish the story in under two hours!  I did not even feel like I was missing anything either – I know novellas are not everyone's favourite thing, but I personally love them and this was no exception!
DC Sally Poynter is new to the scene and has joined DI Hannah Robbins Major Crimes Unit.  Both these females are lead characters (for each of the series) and really compliment each other.  I enjoyed how the author introduced the whole team, without being overly descriptive.  And what an awesome team it is!  Rebecca Bradley's background in policing also shines through in the detail she includes in this police procedural.  Jason Wells has an interesting role to play in this story too!  Without giving away spoilers, there were times when my heart went out to him and other times when I thought that he needed a reality check!  Everything is not black & white and you find yourself questioning whether or not you would do the same if you were in the same position. LOVED IT!
This wee story gets a massive HELL YEAH recommendation from me!  It was gripping, twisted, clever and kept me hooked until the end.  Lucky for you, it's published today so click the link and enjoy!
[amazon template=iframe image&asin=B01M0ZP0MX]