Eeeeek!  Thrilled to be kicking off this blog tour with the lovely Kate of Bibliophile Book Club on PUBLICATION DAY!! A massive *thank you* to the awesome Kim Nash, Netgalley and Bookouture for the opportunity and the ARC. So how about we find out a little bit about the author first….
About the Author
James Carol is the bestselling author of BROKEN DOLLS, the first in a series featuring former FBI profiler Jefferson Winter. The novel was released in the UK in January 2014 to rave reviews and reached number 1 on the Amazon fiction and thriller charts. In addition James is writing a series of eBooks set during Winter's FBI days. PRESUMED GUILTY is the first of these. Under the pseudonym J.S. Carol, he has also written THE KILLING GAME.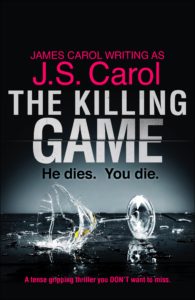 Synopsis:
Imagine you are having lunch at an exclusive restaurant, filled with Hollywood's hottest stars.
And a masked gunman walks in and takes everyone hostage.
You must bargain for your life against a twisted individual who knows everything about you.
He also has a bomb set to detonate if his heart rate changes.
If he dies. You die.
You have four hours to stay alive.
What would you do?
My Rating: 5/5
My Review:
I received this ARC in exchange for an honest review.
I have to be totally honest….when I first read this book, back in July (I think!) I really enjoyed it – but I did not love it…But time had passed, I had been on a serious #BookBingeOverload in May/June and I decided to give it another read – #BestDecisionEVER as I freakin' LOVED it the second time around!  The original title also put me off, but #TheKillingGame is by far the better choice! Ok – now that I have got that off my chest, here is my actual review!
Set in Hollywood, the American tone is clearly felt throughout.  Arrogance, selfishness, revenge, loss as well as new beginnings are some of the common threads you will find within the story-line.
For me, the pace was initially slow, or slower than I am used to…but when the #killerhook reared it's head…OMFG – I was sucked in, racing through each chapter with eager anticipation and spat right out at the end!  *Amazeballs peeps*!!  WHAT A RIDE!
The characters were memorable and each one had a role to play in the unravelling of the plot – but I will mention my two faves, rather than focus on them all….we would be here forever otherwise!  J.J in particular, stuck in my head as I just was not sure what to make of her.  She annoyed me at first, but once her vulnerable side was revealed, she really grew on me.  And I know it is probably wrong, but I really liked…I mean REALLY liked the masked gunman….his anger, his no holds barred attitude and the fact that he had no qualms about hurting/killing people all in the "name of the game" – well, that just intrigued me!  #MyBad!!
A mahoosive #HellYeah recommendation from me if you are looking for a #CrimeThriller that will leave you on the edge of your seat!  I clearly was INSANE the first time I read this book and I am so glad I gave it another go as this is one book you do not want to miss out on #bookjunkies!  Click the link below and check it out…NOW! ?
[amazon template=iframe image&asin=B01LXKJUNR]