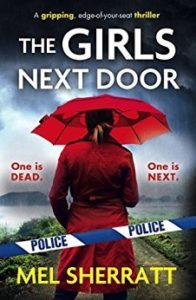 Synopsis: 
One warm spring evening, five teenagers meet in a local park. Only four will come out alive.
Six months after the stabbing of sixteen-year-old Deanna Barker, someone is coming after the teenagers of Stockleigh, as a spate of vicious assaults rocks this small community. Revenge for Deanna? Or something more?
Detective Eden Berrisford is locked into a race against time to catch the twisted individual behind the attacks – but when her own niece, Jess Mountford, goes missing, the case gets personal.
My Rating: #AllTheStars 5/5
My Review:
I received this book from Netgalley in exchange for an honest review.
Well OMFG #bookjunkies!!  Mel Sherratt has done it again! The Girls Next Door is the perfect recipe for an exquisite crime thriller: a dash of the Estate series, a dollop of DS Allie Shenton with a sprinkle of Marcie Steele! A new series full of grit, emotion and the raw realism I adore from this author!  But there was never any doubt this would be the case!
Set in Stockleigh, a fictional city found within the West Midlands (or at least it did not come up when I googled to check! ?) the reader will find themselves caught up in revenge; family/complicated relationships; bullying; death; kidnap; difficult choices and facing consequences; domestic violence and a whole string of other threads.
This book was a freakin' page-turner for me! I consumed this book (not in the literal sense of course!) within a matter of hours and I when finished, I was hungry for more!  What I loved about this book, all of Mel Sherratt's books in fact, is the way she reels you in right from the start and you just never know where you will end up!
Characters are my bag.  I adore them and they can make or break a story for me.  Whether that is right or wrong, if I cannot connect on any level with a character, I can struggle with the whole book.  That was not a problem with this book!  Mel has a way of making the reader feel her characters are every day people – those we could bump into on our day-to-day travels.  I bloody love that!
DS Eden Berrisford has taken a secondment to the Community Intelligence Team  and is a strong leader for her team of officers. I like that she also thinks outside the box and is almost fearless in her pursuit to find the baddies.  Another character or pair of characters I was drawn to were Cayden Blackwell and Jess Mountford.  I started off believing one thing about this couple, only for the author to come out and kick the feet from under me!  Katie Trent – oh wow!  I was in two minds about Katie too!  But she was vulnerable, almost stoic in a sense and her experience seemed to add years to her youthful mind.  This one pulled on my emotions and gave them a wee twist!  There were, of course,  more characters which I could include – especially one in particular that I actually EEEEEK'd when the name popped up – but *no spoilers* …I want the die hard Mel fans to Eeeek too!
Is it any wonder that Mel's latest offering gets a bloody Hell Yeah recommendation from me!?  Of course not- this author delivers every-single-time!  Emotional, gritty and full of some OMFG twists, I dare you NOT to want to read this book!  Click on the link below!  It is out October 27th but available for pre order NOW! Woohoo!
[amazon template=iframe image&asin=B01M02NTYA]