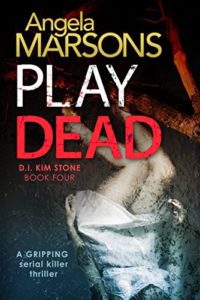 Synopsis:
The dead don't tell secrets… unless you listen.
The girl's smashed-in face stared unseeing up to the blue sky, soil spilling out of her mouth. A hundred flies hovered above the bloodied mess.
Westerley research facility is not for the faint-hearted. A 'body farm' investigating human decomposition, its inhabitants are corpses in various states of decay. But when Detective Kim Stone and her team discover the fresh body of a young woman, it seems a killer has discovered the perfect cover to bury their crime.
Then a second girl is attacked and left for dead, her body drugged and mouth filled with soil. It's clear to Stone and the team that a serial killer is at work – but just how many bodies will they uncover? And who is next?
As local reporter, Tracy Frost, disappears, the stakes are raised. The past seems to hold the key to the killer's secrets – but can Kim uncover the truth before a twisted, damaged mind claims another victim …?
My Rating:  5/5
My Review:
I received this book from Kim Nash of Bookouture, via Netgalley, in exchange for an honest review.
OMFG!  What took me so long, right!?  I could list a thousand excuses but really….#MyBad!  All I can say is, I have finally read Play Dead and now I am TOTALLY ready for Blood Lines! Woohoo!
Set it the Midlands and borders of Staffordshire, Play Dead reveals retribution, loss, justice, survival and the impact that a damaged childhood can have in adult years.
The plot was Fan-Bloody-Tastic and reminded me of another of my favourite authors, Patricia Cornwell with its introduction to a bodyfarm in the current area I live – hell yeah I googled it! ?  The prologue and the first two chapters had the #KillerHook(s) I desperately crave when reading a crime/psychological thriller ~ but I knew it would…it is Angela Marsons after all!!
I love #DIKimStone and with the team back together, I knew the twists would knock me off my feet!  They did…it hurt….but so very, very good! I don't mind that kind of pain!
We see the return of a few familiar faces in this book: Daniel Bate, Dr. A – friggin love these two!  The relationship between Stone and Bate is frustrating – at times, I just wanted to shake her and say "Go for it"!!!  …ok…ok….I did shout at my kindle a few times.  Wait until you see what happens #bookjunkies!  #SuchATease – me!  Not Kim…or is she?! ?
Dr A has a great personality – Says what she thinks and screw every one else…in the professional sense, of course! And Tracy!!!!  Eeeeeek!  When she first appeared, I tweeted there was more to her than meets the eye….I love it when I am right!  But I truly must be a #TwistedSoul as I love the baddies in Angela Marsons' books and once again, she did not disappoint.  Oooooooh so creepy….hairs-standing-up-on-the-back-of-your-neck kinda creepy! Love it!
I am not ashamed to say that I did the most ridiculous *happy dance* when I figured out a significant twist early on, as I always try and keep up with where the author is going.  It was touch and go though, because this author is so very clever in fooling the reader, I am utterly convinced it was a fluke!
So no surprise to learn that it is a massive Hell Yeah recommendation from me! This book is graphic, gritty, disturbing, dark and pretty damn creepy!  The perfect combination for a twisted, psychological thriller!  You must buy this book – I have made it easy…just click the link below!