I know! I know! Not a crime book, but my guest reviewer, Claire swears she has linked it to crime….we'll see! ?  Think this will be the final "fluffy"  and Christmassy book for #CBJ this year!  Not sure my little grinch heart could take anymore…..?
?Happy Publication Day?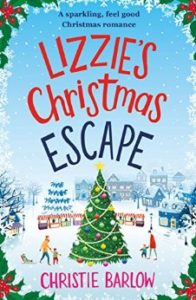 Synopsis:
A gorgeous country house hotel, a liberal dusting of snow, a cosy weekend away…what more could Lizzie ask for at Christmas?
Every Christmas Lizzie promises herself that things will change and she will leap into the new year a new woman. And yet here she is again, at the beginning of December and nothing is different. Her girls have grown up and left home, her husband Henry is slumped in front of the TV and she is alone in the kitchen, seeking refuge in the cooking sherry and talking to her Gary Barlow calendar. She's also been very diverted by handsome new neighbour Marcus and she knows she shouldn't be …
So when best friend Ann suggests a weekend away in the country, Lizzie jumps at the chance. Will this Christmas escape give Lizzie some much needed perspective and allow her to mend her marriage? Or will Marcus prove to be too much of a distraction?
Claire's Rating: 4.5/5
Claire's Review:
The last Christmas themed book I read was Hercule Poirot's Christmas by the late great Agatha Christie. Other than also having Christmas in the title, Lizzie's Christmas Escape has absolutely nothing in common with the Belge's festive investigation which is probably a good job!
It is definitely what it says on the tin, a sparkly feel good Christmas romance. But it's a rollercoaster of emotion! From giggling to feeling a lump in my throat, there is definitely not a dull moment in Lizzie's life.
It was starting to look a lot like Christmas.
I really felt sorry for Lizzie, stuck in a rut in a marriage you could set your watch by. I was rooting for her to be happy but the only happiness she found was in talking to Gary Barlow – I was a Robbie fan so Lizzie and Christie can keep Mr Barlow to themselves ?
I love Ann as Lizzie's best friend. Every girl/woman needs a friend they can share everything in, the highs, the lows, the glares across the bingo hall and of course the shopping!!
Marcus seemed to be the answer to Lizzie's loveless marriage and as I read, I really want Lizzie to find happiness with him. In my head, I pictured an older Danny Mac #HollyoaksHunk
This is the second book I've read by Christie and I loved it. She's definitely a #BookoutureBabe. I'll be back to finish off reading Christie's back catalogue (just two to read) when I need a break from my normal crime and psychological thrillers. She's becoming a firm favourite in the non-crime stakes up with the delightful Marcie Steele.
A very Christmassy thank you to Bookouture and Netgalley for giving me this ebook. This was my honest opinion of Lizzie's Christmas Escape.
Not sure the mention of Agatha Christie counts, Claire! ? Great review for what sounds like a fab, fluffy read.  Click the link to grab a copy today!
[amazon template=iframe image1&asin=B01JEMU4KK]