Eeeeek!  Thrilled to bits that the lovely J.M Hewitt has asked me to once again exclusively reveal a cover!  I am so excited about this book and there is NO WAY I am going to wait as long as I did for Exclusion Zone before I read it! #TroubleIsBrewing and I am going to be #AllOverIt!!
So here it is #bookjunkies……and read the blurb, I think you will be pretty excited to read it too!!  Introducing The Hunger Within…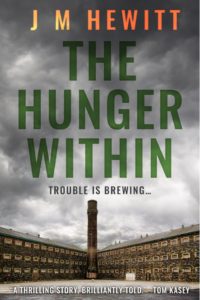 About The Book
Northern Ireland, 1981. The Troubles are tearing apart the country. Neighbour turns on neighbour as the Catholic / Protestant divide rages. In Maze Prison, a group of men start a hunger strike, wanting to be recognised as political prisoners. On the outside, personal lives are also caught up in the turmoil.
When Bronwyn and Danny married, she had high hopes for their future. Now, they barely speak, and Danny keeps such strange hours. When she learns Danny is involved in a shooting, she calls the police, and Danny is sent off to the Maze, where he joins the hunger strikes.
Rose James is not a pretty girl. Nor is she a strong girl. But she's risking everything to date Connor Dean, a Protestant. When Connor is shot, Rose's world implodes. Her mother throws her out, and with nowhere to go, she moves in with Connor's mother, Mary, a formidable woman who lost Connor's father to the Troubles. Mary, wanting her son to herself, sets out to get rid of Rose, travelling to The Maze to enlist Danny's help. He is the man who shot her son and Mary knows just how far he will go. He agrees to make her problem disappear, if Mary will get Bronwyn to visit him. But no one could foresee the events that the handshake deal triggers. And as Danny weakens, and death hovers, everyone's lives are changed forever.
Set against the Troubles, the Maze is rich with history, pathos and the unique pride that comes with surviving in a dark and hostile time.
OMFG!!!  Sounds like this is going to be just as interesting and gripping as Exclusion Zone!  Definitely one I will be downloading as soon as it is available….which could be…by the way…as early as NEXT WEEK!! Eeeeek! 
Thanks to the author, Jeanette Hewitt and Endeavour Press for letting me be the one to #ShoutOut about this bad boy!  Keep your eyes peeled #bookjunkies as this author is #OneToWatch!