Eeeek!  It's my 'lil star, Claire Knight's stop on Graham Smith's            I Know Your Secret! blog tour!  No more of an introduction needed- just check out Claire's fantabulous review!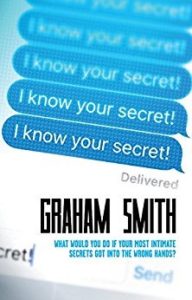 Synopsis:
Set in modern day Cumbria, I Know Your Secret is a police thriller in which a priest is found crucified to the stone floor of his church. Fearing more attacks on the clergy, DI John Campbell and his team of misfits race to find the killer before he strikes again.
Meanwhile, DI Harry Evans, spends his days attending the trial of his wife's rapist and his nights interfering in the investigation.
Can they catch the killer before he strikes again?
Claire's Rating: 5/5
Claire's Review:
As I read I Know Your Secret, I had to keep reminding myself in the world of Evans, it's less than a week since Snatched From Home had happened. Normally with sequels, there's a time gap between books but not with Graham Smith. He took the team reeling from events in Snatched straight into Matching the Evidence which is a non-stop weekend of football hooligans and illegal immigrants and then bang into four cases of murder, assault, rape and deception. On top of all of this, Harry Evans is facing the court case of his life, the trial of his wife's rapist so DI John Campbell is at the helm of the Major Crimes Team, still under the dark cloud of last week's antics.
The whole book is an emotional rollercoaster from the shock of the initial murder (surely killing a priest is sacrilege??) through the slight comedy of the conned toff being a man with connections high up in Cumbria police (or was that just me that found that amusing) and the wincing of Father Owen's injuries to the verdict of the court case. I felt a mess of emotions by the time I'd finished the book and I never thought that would be the case with a gritty police procedural but Mr Smith you managed it!
I love the Guns N' Roses quote at the beginning of the books. Once you get to the end of the book, they make perfect sense!
I think this is the best I've read from Graham Smith. Not doing his previous books a disservice; they were brilliant but this goes that bit further. If I could give it more than 5 ⭐️ I would!
Huge thanks to Caffeine Nights Publishing and Graham Smith for giving me a copy of I Know Your Secret! in exchange for an unbiased review.  I beg you, please don't let this be the end of Harry Evans!!! Pretty please?!?!
Woohoo!  How is that for a freakin' awesome review!  Thanks, Claire!!  Mr Smith, don't make us beg!  #TeamEvans wants more! You can grab a copy of this most awesome read via the link below!
[amazon template=iframe image1&asin=B01LSVRL5G]