I am NOT reading this review as I am really looking forward to reading this book myself….so I am just going to hand it over to Claire this time! ? (I am sure it is a great review….I know my 'lil star!) But….what I will say is that I freakin' LOVE the cover of this book!  Ok…now over to Claire!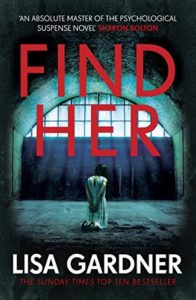 Synopsis:
A LOST GIRL FOUND
472 days locked in a pine box, at the mercy of a madman.
Flora Dane survived her hell with only one goal:
develop all the deadly skills necessary to make sure she's never caught again.
ANOTHER GIRL MISSING
Detective D.D. Warren believes that Flora may be the key to finding missing college student, Stacy Summers.
But she must follow rules that Flora has no interest in.
For Flora no risk is too great, no cost too high, even if it means playing into a predator's hands.
Two victims. One cop.
TIME IS RUNNING OUT…if you're going to FIND HER
Claire's Rating: 4/5
Claire's Review:
When Noelle offered to send me her spare copy of the latest Lisa Gardner book, I jumped at the chance. I'm not the biggest fan of American police procedurals but having previously read and really enjoyed one of the author's standalone novels, The Other Daughter, I thought I'd be on to a winner with Find Her.
This book is written from three perspectives: our main gal in blue (well civvies as she's a detective) DD Warren, our vigilante Flora in the present and Flora during her abduction some years previous.
All the characters are distinctive – the new Flora, the resourceful survivor; the old Flora, a scared girl desperate to go home; DD, the detective with an eye for detail and follows her gut; Everett, the creep, he made my skin crawl! They all have their part to play in this twisty police procedural-come-crime thriller.
There's plenty of intrigue. With the three story threads interwoven together, I was left hanging on a cliff at the end of each section which kept me reading to find out more! I was desperate to find out how Flora escaped Everett's clutches and who was behind the current kidnappings. I thought three quarters of the way through, I knew who it was but then boom, I'm proven wrong!!
I don't feel I've missed anything by not reading any of the previous DD Warren books. But I have downloaded some of the other books from the series to read and catch up on some of DD's back story
A big thank you to Headline and Noelle for sending me a copy of Find Me.
To grap yourself a copy of this psychological thriller, click the link below!
[amazon template=iframe image1&asin=B01136BW2E]