My guest reviewer, Claire Knight, has been sailing the sea with this read!  Check out her thoughts on Maria Caviglia's Drug Smuggling!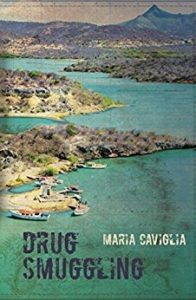 Synopsis:
For a year, Sandra has been sailing the turquoise waters of the Caribbean with her partner, Alex. Having shrugged off the restrictions of their previous lives, the small sailboat has become their home. However, when news reaches them that two young tourists have gone missing in Belize, their adventure takes a sinister turn. Unsure of who she can trust, Sandra sets out to uncover the fate of the missing girls. It soon becomes apparent that the criminals involved are more powerful than either Sandra or Alex can comprehend. Undeterred, Sandra continuously puts herself in danger, determined to unravel the tangled web of corruption. No longer a tropical haven, it is clear that there are shadows over the Caribbean…
Claire's Rating: 3/5
Claire's Review:
Drug smuggling is set in the exotic location of coastal Belize. I love the idea of living life on a boat in the Caribbean Sea; the freedom to go where you want when you want. Though the thought of the annual hurricane/tornado season really puts me off!
The premise sounded great; sun, sea and intrigue but I found it a bit slow in pace. Some people might enjoy the speed at which the story goes but for me, I need something that is a bit more of a rollercoaster particularly when the book isn't a long one. Drug Smuggling is just 176 pages; I've read other books of similar length and I felt they had more meat to the story.
The book felt dated in some ways. As it's been written in the past couple of years, I expected Internet cafes, emails, satellite phones etc. I appreciate the author spent a number of years sailing around the Caribbean and South Pacific however given there was no indication of when the book was set, I was surprised to read of sending faxes and having camera film developed.
There is nothing wrong with Drug Smuggling, it just wasn't for me unfortunately. It would a good read for someone who wants to dip their toes into the water of the crime world.
Many thanks to Lily Ryan at Austin Macauley Publishing Ltd for sending me a copy of Drug Smuggling to read. This is my unbiased review.
Sounds like an interesting read! If Claire's review has piqued your interest, click on the link below and check it out!  Thanks to Claire and Lily Ryan!
[amazon template=iframe image1&asin=B0190K5WJ4]