Another book on my TBR that Claire has managed to read before me…#IWillCatchUp – ha ha.  This one is Dark Fragments from the awesome Rob Sinclair!  Shall we see what my 'lil star thinks…might determine whether I bump it up my massive TBR!  Hmmm…might not be the wisest wording..but you know what I mean!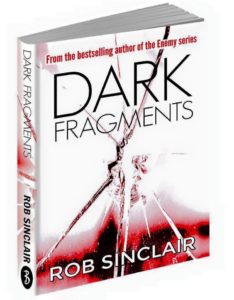 Synopsis:
Murder. Money. Revenge.
Outwardly, Ben Stephens appears to be a normal, hardworking family man. In reality his life has been in turmoil since the murder of his wife, Alice, seven years ago. The killer was never caught. Now remarried – to the woman he was having an affair with while still married to Alice – Ben's life is once again spiraling out of control, and he's become heavily indebted to an unscrupulous criminal who is baying for Ben's blood.
When Ben's estranged twin sister, a police detective, unexpectedly returns to his life, asking too many questions for comfort, it becomes clear that without action, Ben's life will soon reach a crisis point from which there will be no return. In order to avoid falling further into the mire, Ben must examine the past if he is to survive the present – but just how much pressure can one man take before he breaks?
Dark Fragments is a fast-paced thriller with a blend of mystery, suspense and action that will appeal to listeners of psychological thrillers as well as a broad section of crime, thriller and action fans.
Claire's Rating: 4/5
Claire's Review:
I loved the Enemy trilogy featuring the rugged Carl Logan so I was very keen to read this new offering from Rob Sinclair. It's a change of direction for the author. There's still an element of action but less James Bond to the story, more crime, intrigue, gangsters and twists.
Our main man Ben has a lot on his mind, the rather large debt he owes, the unsolved murder of his first wife and life with his second wife isn't as peachy as it could be. To be fair Ben is an idiot, he thinks he can get himself out of his predicaments without facing them. But that just sends him to another one! And with a detective for a twin sister, he's got to watch himself.
"In the battle of good over evil, the wolf that wins is the one that you feed the most. And really, there's nothing more to life than that."
All the way through, I wondered who is he talking to – Psychotherapist? Police? Counsellor? Either way, each conversation intermittently dispersed throughout the story provides a bit more of Ben's story.
The story is a lot darker than Rob's previous offerings. For some reason, I pictured everything happening at night or at the very least a dark overcast day. I was missing some literary vitamin D by the end. But wow I did not see that ending coming!
Many thanks to Bloodhound Books for sending me an advanced copy of Dark Fragments.
Must say I am intrigued!  This will be available November 8th, but unfortunately there is no link / pre order up on amazon at the moment for me to share.  Mark your calendars #bookjunkies!