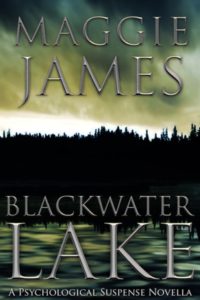 Synopsis:
Matthew Stanyer fears the worst when he reports his parents missing. His father, Joseph Stanyer, has been struggling to cope with his wife Evie, whose dementia is rapidly worsening. When their bodies are found close to Blackwater Lake, a local beauty spot, the inquest rules the deaths as a murder-suicide. A conclusion that's supported by the note Joseph leaves for his son.
Grief-stricken, Matthew begins to clear his parents' house of decades of compulsive hoarding, only to discover the dark enigmas hidden within its walls. Ones that lead Matthew to ask: why did his father choose Blackwater Lake to end his life? What other secrets do its waters conceal?
My Rating: 4/5
My Review: 
I received this novella from the author, in exchange for an honest review.
I love the opportunity to read novellas – sometimes it is just the thing to keep my commutes a little less tedious.  And OMFG -this novella certainly captured my interest and I managed to read it on one of my daily commutes to work!
Set in the fictional 'town' of Blackwater  in Bristol, the reader is immediately drawn into secrets & lies, fears & frustrations, grief & loss, and a strong sense of what happens when you hide the truth but can't escape from your demons.  Oooooh!  *spooky factor high alert*
The plot was fairly fast-paced and full of twists and I was immediately hooked on the story.  There was a great air of mystery surrounding the main characters such for the truth – it had me on the edge of my seat at times.  I had my detective hat on and was fairly sure that I had worked it all out, when BOOM – the author caught me off guard with the final revelation!  What I really enjoyed was how the past was being dug up, but the key players who could actually answer the questions were all dead!  That had me wondering throughout if Matthew would solve the mystery at all!!
The characters themselves were also very intriguing.  Matthew Stanyer, the main character, takes us through the story and the shocking revelations.  He was strong-willed and determined despite his grief and really brought out these emotions in me, as the reader.  I really also felt for his parents, Joseph & Evie – moreso in their later years when dementia consumed Evie and Joseph struggled to cope.  They were at their most vulnerable and their backstory was clever and intriguing as I wasn't sure how I felt about either of them!  Izzy also stood out and drip feeds Matthew pieces of the puzzle.  I was never sure what to make of her but her presence added to the mystery!
Nothing was at it seemed in this wee novella and I thoroughly enjoyed it!  If you are looking for mystery, suspense and a few twists to keep you guessing then I highly recommend you grab a copy of this book!  Just click the link below!
[amazon template=iframe image&asin=B015WYIQ4K]