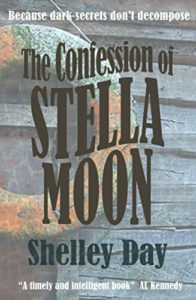 Synopsis:
1977: A killer is released from prison and returns 'home' – a decaying, deserted boarding house choked with weeds and foreboding. Memories of strange rituals, gruesome secrets and shame hang heavy in the air, exerting a brooding power over young Stella Moon. She is eager to restart her life, but first she must confront the ghosts of her macabre family history and her own shocking crime. Guilt, paranoia and manipulation have woven a tangled web. All is ambiguous. What truth and what lies are behind the chilling confession of Stella Moon?
My Rating: 4/5
My Review:
A big thanks to the author and Contraband for a copy of this book in exchange for an honest review.
Set in Newcastle in the late 1970's, this book is haunting and dark but also very intriguing.  Loss; abandonment; family secrets; relationships; mental health and the search for truth are just a few of the themes you can find in this debut novel.
The pace of the story was set perfectly with an even build up to the revelations that followed. And I absolutely LOVE the tagline of this book: #BecauseDarkSecretsDontDecompose – brilliant!
In terms of characters, we of course have the main character: Stella Moon.  Stella fascinated me.  She is vulnerable, but not weak.  She could be emotional but emotionless.  She was on a journey to discover a truth and drew me right in.  I felt at times I just wanted to grab her shoulders, shake her and scream: Really Stella!?  Come on!  Especially when it came to Frank Fanshaw.  I feel dirty just typing his name.  I instantly disliked him.  Basically his character just made my skin crawl from the get go.  Stella's mother, Muriel and her Nan also intrigued me.  Back in the days when this story was set, families kept secrets – and this family was no exception- I mean OMFG!  Talk about disturbed!   Now Gareth Davies – what-the-actual-hell?!  He is Stella's Probation Officer.  Being a Probation Officer myself, I took a particular interest in Gareth and in the main, I wanted to slap him silly!  Thank god Probation practice has changed, although I did like the way he felt protective of Stella – it just was a little too much!  #BackOffGareth 😂
With some interesting twists, atmospheric and full of suspense, I would definitely recommend #Crime readers grab a copy and find out the secrets that lie within the pages!  Click the link below to find out The Confession of Stella Moon! 
[amazon template=iframe image&asin=B01GTMR802]