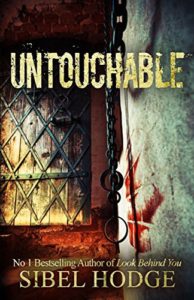 Synopsis:
A Conspiracy. A cover-up. And a whistle-blower who knows too much. You think you know who to trust? You're wrong. And the truth may kill you…Untouchable is a chillingly dark psychological thriller from the No 1 Bestselling Author of Look Behind You.
~~ Inspired by real UK police investigations, this book contains scenes which some readers may find disturbing ~~
It's Maya and Jamie's anniversary, and she waits with excitement for him to return home for a celebratory dinner. There's a knock at the door. It's the police. Jamie has been found hanging in a local wood.
His death is ruled a suicide, but Maya doesn't believe Jamie would take his own life. Something isn't right. Someone has broken into her house. Someone is watching her. And someone has gone to great lengths to cover up what Jamie was doing before he died.
Maya's grief turns to suspicion, and as she begins to investigate the weeks leading up to Jamie's death, her trail leads her to a place known  as "The Big House" and the horrific secrets within. Secrets people will stop at nothing to keep hidden. People linked to the heart of the Establishment who think they're untouchable.
Now Maya has a dangerous decision to make. How far is she prepared to go to reveal the truth?
My Rating: 5/5
My Review:
A huge thanks to the author, Sibel Hodge, for giving me an ARC of this book in exchange for an honest review.
Well OH MY FRIGGIN GOD #bookjunkies! This is just one of those books that grabs you by the throat and takes no mercy!  Set in St. Albans, the story also takes place in London and the characters seamlessly move between areas as well as POV's (Points Of View). A variety of themes come through and include, but are certainly not limited to: secrets & lies, payback, corruption, politics, trauma and the lengths people will go, to expose as well as hide, the past.
When I first saw that there were three first person POV's in this book, I have to be honest, I was a little worried.  It has to be done incredibly well to capture the flow and story-line or else it can end up reading as pure chaos and confusion.  But I had nothing to fear, *smacks hand*, the author did this beautifully and although it was like reading three stories in one – they all came together without any awkward gaps in the plot. Su-bloody-perb!!
The plot is one of those "WTAF" stories – you know these things happen, but when talked about, it is usually in whispers or swept under the carpet…as god forbid…those who are "high society", powerful people, could never be involved in scandal could they? – yeah, that may be a bit sarky…what can I say!? Well actually, I can't really say anymore without giving away some of what makes this story brilliant…so I won't…you will just have to read it for yourself!  But be prepared to have your mind blown – this is aptly called a psychological thriller and it does not disappoint!
There are three main characters in this book: Maya, Jamie and Mitchell. Although there are many more equally important minor characters that keep the story afloat, it is these three that stick in my mind.  We learn about each one of them and their stories as the plot unfolds. I loved Maya's almost innocent naivety which grows to a solid determination when trying to find out the truth behind Jamie's death.  Jamie's story is raw, real and absolutely tears the reader up.  Mitchell becomes inextricably entwined in the story when he offers Maya help in uncovering the truth, but his own truth is revealed.
I am not kidding when I say that this was an explosive read….it literally crashed my kindle half way through!!  If you want suspense, betrayal, a fast-paced, mind-blowing read…I HIGHLY recommend you click the link and grab a copy of this book right now — and prepare yourself, because you won't know what hit you!! And with its kickass cover, this is DEFINITELY in my #TopReads for 2016!!
[amazon template=iframe image&asin=B01GHALZ8M]