What a fab way to spend an afternoon!  Reading a brilliant review, from my Guest Reviewer- Claire Knight, on a book that is an amazon BESTSELLER in Vigilante Justice and Murder!!  I won't keep you ….check out Claire's thoughts on Untouchable  by Sibel Hodge!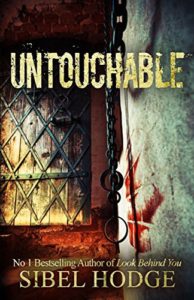 Synopsis:
A Conspiracy. A cover-up. And a whistle-blower who knows too much. You think you know who to trust? You're wrong. And the truth may kill you…Untouchable is a chillingly dark psychological thriller from the No 1 Bestselling Author of Look Behind You.
~~ Inspired by real UK police investigations, this book contains scenes which some readers may find disturbing ~~
It's Maya and Jamie's anniversary, and she waits with excitement for him to return home for a celebratory dinner. There's a knock at the door. It's the police. Jamie has been found hanging in a local wood.
His death is ruled a suicide, but Maya doesn't believe Jamie would take his own life. Something isn't right. Someone has broken into her house. Someone is watching her. And someone has gone to great lengths to cover up what Jamie was doing before he died.
Maya's grief turns to suspicion, and as she begins to investigate the weeks leading up to Jamie's death, her trail leads her to a place known as "The Big House" and the horrific secrets within. Secrets people will stop at nothing to keep hidden. People linked to the heart of the Establishment who think they're untouchable.
Now Maya has a dangerous decision to make. How far is she prepared to go to reveal the truth?
Claire's Rating: 5/5
Claire's Review:
I read Sibel Hodge's Look Behind You when it came out a couple of years ago and loved it. So when I was offered a copy of Untouchable, I jumped at the chance to read it!
The first two chapters left me stunned! And I had a lump in my throat half way through chapter 3!! Boy what a start!!
By the end I was traumatised, spent half my reading with my hand over my mouth. Jamie's story is horrific, reminds me of the story in Lorenzo Carcaterra's Sleepers; a lot of the abuse is left to your own imagination. Then Maya's desperate urge to find out what had caused Jamie to commit suicide.
This is another book with a very topical and sensitive subject. Yet again, the author has handled it in a fantastic and sensitive way. I could see the influence of the current police investigations in the author's writing; the highly publicised Operation Yewtree springs to mind. It's not the most comfortable of reads but very well written and grabbed my attention from beginning to end.
Many thanks to Sibel Hodge and CrimeBookJunkie Book Blog for giving me this ebook in return for my unbiased review
As always, another fabulous review from Claire Knight!  So it looks like two for two as I gave this an easy 5⭐️'s as well!  If you have not already grabbed yourself a copy of this fantastic book, head over to amazon by clicking the link below!
[amazon template=iframe image&asin=B01GHALZ8M]