Over the moon today that the lovely Kim Cresswell has offered 20 audiobook codes in exchange for an honest review!  The book is the first in the Whitney Steel series and comes with a bit of a warning: ***Contains language, sexual situations and violence***  ooooooh!  
Have a look at the synopsis and then follow the instructions below to be in with a chance of getting you hands on one of these codes!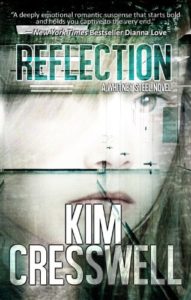 Synopsis: 
Florida investigative reporter, Whitney Steel, has lived in the shadow of her legendary father long enough. To prove herself she needs to find the "Big" story.
She found it. Now it may kill her.
After receiving a lead pointing to the world's first cloned human, now a small child, Whitney vows to unravel the truth. However, sifting through the facts proves to have dangerous results, including death threats and murder.
When she's nearly killed, but is saved by undercover FBI Special Agent, Blake Neely, he refuses to let her get in the way of his own objective–at least not right away.
Caught in a lethal game between a billionaire obsessed with genetic perfection, his hit man's thirst for retribution, and a Colombian drug lord fresh out of prison determined to make Blake pay for his twin brother's death over a decade ago…
Can they save an innocent child before it's too late?
Faced with tough choices, with deadly consequences for many–Whitney soon realizes that sometimes a story becomes more than just a story.
If this sounds like something you are interested in, comment your name below and let me know if it is a UK or US code you need!   The first twenty people will be asked to provide their email address and the narrator will send out the codes!  I read and LOVED Retribution, Book 2 in this series, so I highly recommend you check it out!  But remember, in exchange, you must leave an honest review – it is all about #PayingItForward peeps!