EEEEEEEEEEEEEK!!!!  The day has finally arrived and my most awesome Guest Reviewer, Claire Knight is setting the bar high and kicking off Graham Smith's Matching The Evidence Blog Tour with one hell of a GREAT review!!  But first, Mr Smith has written a fabulous guest post on "Filling The Gap"  …..
Guest Author Post: Filling the Gap by Graham Smith 
Sometimes as a writer you make errors of judgement through inexperience and a lack of forward planning. When this happens, you have to just buckle down, let out a good few sweary words and then ignore the sense of despair and concentrate on fixing the problem.
Hands up I made a big one with my timeline. While I was submitting Snatched from Home to various publishers and agents, I went ahead and wrote the sequel – I Know Your Secret. Nothing wrong with that, you may think, and you'd be more or less right. The problem was with the way I set up both novels on a very tight timeline.

To explain, Snatched from Home finished in the early hours of a Saturday morning and I Know Your Secret begins on the Monday morning. There's roughly forty-eight hours between the two. Again you may be wondering what the problem could be.

The problem is that when I signed with Caffeine Nights Publishing I pitched the idea of a short story collection which would precede Snatched from Home and introduce the characters. The publisher liked the idea and I set about writing the stories which would fill The Major Crimes Team Vol 1: Lines of Enquiry. I subsequently got an email from the publisher saying he loved the stories and he wanted a novella or short story collection to sit between each novel in the series. Needless to say, I was thrilled and did the typical author happy dance. (In my case this involves flexing the right elbow while holding a pint glass filled with something frothy.)

Once the author happy dance had finished and the subsequent hangover faded, I realised I had a big problem. I now had a forty-eight hour window in which to fit a story of at least 20,000 words. I also needed to have some time for my team to rest as I couldn't work them round the clock over two books and one novella without breaking readers' credibility.

While there's nothing wrong with having a short time frame for a story, with the best will in the world, a police investigation takes time to execute and time wasn't on my side. I spent a week or two throwing ideas around my brain to see which ones would best work until I had one I was confident of.

By the time I'd finished Matching the Evidence, I was left with a story which lasted around nine hours in book time, filled the gap in a way which made sense and best of all, was something I felt complemented the books either side of it as well as being a good story in its own right.
All I can hope is that my readers feel the same way.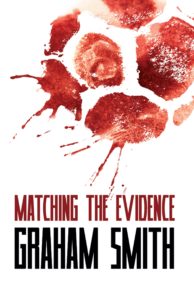 Synopsis:
Carlisle United are playing Millwall and the Major Crimes Team are assigned to crowd control as punishment for their renegade ways. Typically, DI Harry Evans has other ideas and tries to thwart the local firm's plans to teach Millwall's notorious Bushwhackers an unforgettable lesson.
Meanwhile an undercover cop is travelling north with some of the Millwall contingent. His mission is to identify the ringleaders and gather evidence against them.
Three illegal immigrants have been transported to Carlisle and are about to meet their new employers.
Nothing is as it seems for Evans and his Major Crimes Team as they battle to avoid a bloodbath while also uncovering a far more heinous crime.
Claire's Rating: 5/5
Claire's Review:
Following on straight from Snatched From Home, Evans and the team are feeling the repercussions of their actions from senior management. In this novella, they are "punished" by being ordered to assist in the policing of football fans but not any football fans, Millwall fans. For anyone who doesn't know, Millwall fans have a reputation (deserved or not) of one of least friendly fans. In fact it used to be advised that away fans shouldn't travel to The Den for their own safety.
But as with many cases, the reputation of the majority can be tarnished by the actions of a few. Matching the Evidence highlights this by following three Millwall fans spoiling for a fight but little do they know their fourth man is an undercover copper. I love the name of one of our naughty Millwall fans, Lugs; it made me smile and I hear you ask why….It's the name of a good friend's rabbit who is a bit rowdy at times I'll give you … but far from a London thug!! ??
I am really enjoying Graham Smith's writing, it's no ordinary police procedural. It's got grit to it; Evans and the team don't always live by the office police handbook but they will do virtually anything to crack the case. But nothing is ever quite what it seems, who would have thought in the policing of a football match, the team would uncover a darker situation involving illegal immigrants?
Cumbria isn't the sleepy picturesque area people envisage it to be when discussing the Lake District. Graham Smith has made it a haven for crime but with Harry Evans at the helm, criminals should proceed with caution! He's a force to be reckoned with!
Many thanks to Caffeine Nights Publishing for my copy of Matching the Evidence in return for my honest review. Huge thanks to Graham Smith and CrimeBookJunkie book blog for letting me open the blog tour for this great novella! Can't wait for I Know Your Secret!
WOOHOO! Thanks to Graham for the fabulous Guest Post and what a briliant review for a brilliant novella!!  Oooooh Claire, you are in for a treat with I Know Your Secret! – it is even better than Snatched From Home!!!!  We don't do things by halves here at #TeamEvans and so for the next THREE weeks, we will be visiting some of the best #TOPBLOGGERS to get their thoughts on this book too!  But readers, you do not want to miss out- click the link and pre order your copy STAT!  
[amazon template=iframe image1&asin=B01JJ5D1AC]