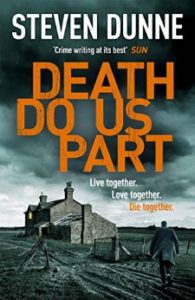 Synopsis: 
Even death cannot part these couples . . .
DI Damen Brook is on a rare period of leave and determined to make the most of it by re-connecting with his daughter Terri. But with her heavy drinking proving a challenge, Brook takes the opportunity to visit a local murder scene when his help is requested.
An elderly couple have each been executed with a single shot to the heart and the method echoes that of a middle-aged gay couple killed the previous month.
With the same killer suspected and the officer currently in charge nearing retirement, Brook knows that he has little choice but to cut short his leave when forced by his superiors to take the lead on the case.
Brook believes that he can catch this ruthless killer, but already distracted by Terri's problems, is he about to make a fatal mistake and lead the killer right to his own door?
My Rating: 5/5
My Review:
I received this book from Netgalley/the publisher, in exchange for an honest review.
Where the hell have I been #bookjunkies!?  Some one needs to slap me upside the head as I cannot believe it has taken me so long to read one of Steven Dunne's books!  And in typical CrimeBookJunkie fashion, I have started from the latest — Book 6 in the #DIDamenBrook series — but luckily, they (in the main) can be read as a standalone! #MyBad!!
Set in Derby, I was immediately hooked from the very first few pages.  This author really knows how to capture his readers attention!  In terms of the themes you will come across, well there is love, loss, betrayal, grief, PTSD, haunting memories, unresolved issues and mental health — to name but a few.  The story-line is littered with various ploys to keep the readers interest piqued at all times.
The plot itself was cleverly written, with red-herrings being thrown at you — I was even stumped at times!  Pace-perfect, I was never left feeling that any aspect of this story was dragging.  And holy bejesus #bookjunkies – just when I thought I had it all figured out, the author threw another corker of a twist into the mix…and then another! WTAF?!?- The OMFG's were flying out of my mouth!
I loved the style of writing in this book.  The author's voice was clear and the narrative compelling.  The references to #The Reaper left me aching to read this book — so much so, I nearly stopped reading to go back to where it all started! But I never felt that anything was missing and I think it is fair to say, that I WILL be going back to the start fairly soon as I need to know what this Reaper is all about.  Now that is great writing!
I always say this, but if you read my reviews, you will know that characters are my #BigThing.  A character has to get under my skin, grab me, take me on their journey — or else, well…I just don't connect with the book.  Fortunately I loved the characters in this book and they did all of the above!  The fact that Mr Dunne has left me wanting for more….well job done….I am a #Fan!
DI Damen Brook is meticulous, honest and a down right decent guy– but he does have his demons and he is, for me, "Columbo-like" in his breakdown of solving a crime. He deconstructs and then builds up the crime in order to solve it.  He throws things out to his team and lets them draw their own conclusions and he is determined to ensure that justice is meted out.  I have come across other reviews where people comment that they want something good/happy for DI Brook — sure, I guess that would be nice — but I think he may lose the edge he has- he almost, in a twisted way, thrives on his demons — and just does not fully realise it, in my opinion.  Or maybe I am just mean! One of my favourite lines from this book was when Brook said to Caskey: "You see, I realised our dreams exist to house our demons. We may not like it, but as long as we wake up in the morning, we're fine".  I have no idea why I was drawn to it — but I was– and it has stuck with me!
I also adore DS Noble. The relationship between Noble and Brook is great.  Loyalty, friendship and concern is mutual in this relationship, along with respect.  Brook's daughter, Terri, also highlighted the different relationships…and demons….Brook has in his life.  Wanting to protect his daughter and let her know how he feels, often backfires.  Terri has her own demons to face and I am looking forward to seeing where this develops in future books. I could choose a dozen or more characters that I adored, even the not-so-nice ones– like Luke Coulson — who has a vulnerability that you just can't help feel sorry for him — but then this review might never end– so I will leave it at that and hope that your interest has been grabbed enough to check them all out yourself!
So in case it was not obvious….this book…and no doubt this series….bloody well ROCKS!  I dare you to read this book and not go out and buy the rest of the series  It just cannot be done!  And I can only apologise for my own foolishness in not picking this up sooner…but you know what …for all of you who HAVE read it….the best is yet to come for me…SO THERE! Nah Nah Nah Nah Nah Naaaah!
A highly recommended read, click the link below to get yourselves to amazon for a copy of this truly superb piece of crime fiction!  EEEEEEEEK!  ( you did not think I would end this with at least one EEEK did ya?)
[amazon template=iframe image1&asin=B011IYIDQY]