Woohoo!  My 'lil star, Claire Knight has done a guest review on Louise O'Neill's book Asking For It.  This is one of those books that makes you think –a real life issue, but a fictional setting and a pretty kick ass review from Claire to go along side that!  I know Claire prefers the Hardback cover, but  I kind of like to kindle version — but I was fair, and included the other within the body of the review.  I have to have some perks when it is my blog right!?  #NotABossyBlogger – I swear!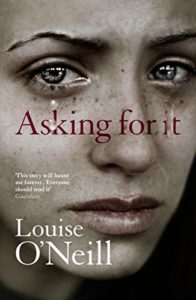 Synopsis:
'A soul-shattering novel that will leave your emotions raw. This story will haunt me forever. Everyone should read it' Guardian
In a small town where everyone knows everyone, Emma O'Donovan is different. She is the special one – beautiful, popular, powerful. And she works hard to keep it that way.
Until that night . . .
Now, she's an embarrassment. Now, she's just a slut. Now, she is nothing.
And those pictures – those pictures that everyone has seen – mean she can never forget.
For fans of Caitlin Moran, Marian Keyes and Jodi Picoult.
Claire's Rating:  4/5
Claire's Review: 
In the past few years, there's been a lot of media coverage surrounding the footballer Ched Evans who was convicted of raping a woman who was too drunk to consent – one article said she had consumed two glasses of wine, four double vodkas and a sambuca shot.
At the Evans trial, the prosecutor was quoted as saying "It is a myth that being vulnerable through alcohol consumption means that a victim is somehow responsible for being raped. The law is clear: being vulnerable through drink or drugs does not imply consent".
Asking For It takes the consent debate one step further; a very drunk and drugged up Emma leads a young man into a bedroom, is that her saying yes?  As things heat up, she suggests they return to the party but the boy ignores her, is she still consenting? Where is the line of consent drawn?
Emma is promiscuous when she's at parties, dresses provocatively, she's even described as a tease at one point. But does that mean she deserves to be raped when she's unconscious?  Does she deserve to have pictures of her in a state of undress, posed like a mannequin plastered across Facebook for all to see and judge?
This book makes you think about the ambiguity of consent.  Is consent implied by actions? Does a girl have to say yes or no explicitly? There are many questions that still need to be discussed in this controversial debate with differing views from all around the table.
I personally think Louise O'Neill handled this subject sensitively, showing Emma's fall from grace, being the IT girl at the beginning to becoming the town leper for accusing the town's popular upcoming boys. Emma isn't the most likeable character to start with. To be fair, she's a bitch;  she takes items from her friends, targets boys frequently because someone else is interested, lies about how much study she does. But as the events of the party night unfold and the impact is felt, I felt sorry for Emma.  Not only do rape allegations change the lives of the accused, but this story shows how the victim's life can be affected especially when those around her don't believe her.  The story also shows the strain the situation places on her immediate family.
Thrown into the mix is social media and the phenomenal way photos can be shared so quickly.  But the author also shows how it used as a medium to judge people based on social perception. It's not just social media this happens, it happens in the traditional media especially when it comes to celebrities. Trial by media and public opinion   – is that a fair and just way of finding an individual guilty?
This is a highly thought-provoking book highlighting a controversial and sensitive subject and it's been done very well by Louise O'Neill.  One thing I do have to say is I prefer the hardback cover to the one used for the paperback and kindle editions.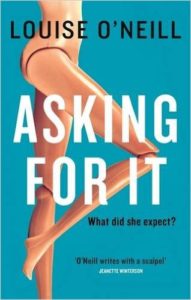 Many thanks for Quercus Books and Netgalley for giving me this book to read and review honestly.
Awesome and thought provoking review Claire!  This book won BOOK OF THE YEAR AT THE IRISH BOOK AWARDS 2015 and as noted in Claire's review, it makes you think about the life-shattering impact of sexual assault, rape and how victims are treated.  It was on my radar before — definitely more so now!  If you're interested in reading this too, click the link for a trip to amazon!
[amazon template=iframe image1&asin=B00TOOSBWW]