I am beginning to think Claire will have to be equal partners in #CrimeBookJunkie as she is smashing it with reviews and blog tours lately!  Today my Claire is hosting Claire Seeber's The Stepmother blog tour and shares her thoughts on this psychological thriller! A huge thanks to Kim Nash/Bookouture and the author for asking CrimeBookJunkie to be a part of the tour!  Now over to Claire!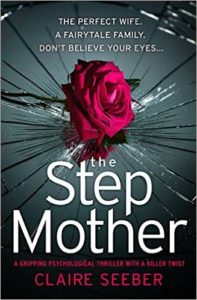 Synopsis:
Jeanie and Matthew are a happily married couple who both have teenage children from previous relationships.
No one said it would be easy to raise a blended family under one roof but Jeanie and Matthew are strong. They will make it work.
And whilst Jeanie's step-daughter Scarlett rejects her, Jeanie will just have to try harder to win her over.
But Jeanie has a past. A terrible secret she thought she'd buried a long time ago. And now, it's coming to the surface, threatening to destroy her new marriage.
Someone is playing a terrifying game on Jeanie and she must put a stop to it once and for all.
After all, a fairytale needs a happy ending…doesn't it?
Claire's Rating: 4-4.5/5
Claire's Review: 
Jeanie had a whirlwind romance with Matthew, a recent divorcee but little does she know she's marrying in a family full of secrets; everyone desperate to keep their own hidden but someone's determined to expose Jeanie's and make her life miserable.
My choice of Jeanie's tormentor kept changing throughout as the story developed but I did not get the right person at all! The sign of a good thriller writer! I did sympathise with Jeanie to an extent but the secret she was keeping from her husband should have been told to him at least well before "I Do" was uttered.
Towards the end, I kept thinking the story is all wrapped up but no, there's another chapter with more to the story! It's an well written addictive read that just keeps on giving! I'd recommend it to anyone who enjoys their psychological thrillers!
This is the first Claire Seeber novel I've read but it won't be the last; I know I've got 24 Hours and Lullaby sat patiently on my Kindle and now I'm disappointed I've not read them before!
A huge thank you to Bookouture for giving me this book to read and review, to Kim Nash for asking me to be part of The Stepmother blog tour and to CrimeBookJunkie BookBlog for letting me host!
Awesome my 'lil possum!  I too have a few of Claire Seeber's books on my TBR and looks like I will be adding this one too!  Head over to amazon via the link below #bookjunkies ?
[amazon template=iframe image&asin=B01GTXQ75S]