Delighted to have been asked to be a part of Clare Carson's The Salt Marsh blog tour.  A huge thanks to the author, Head of Zeus publishing and Blake Brooks for providing all the material!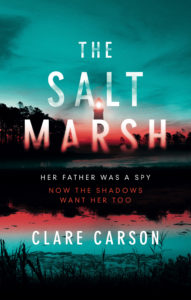 About the Book:
A haunting thriller set in the windswept marshes of Kent and Norfolk, from the author of Orkney Twilight
It is a year since Sam's father died, but she cannot lay his ghost to rest. Jim was an undercover agent living a double life, and Sam has quit university to find out the truth about his work. Her journey will take her from the nightclubs of 80s Soho to the salt marshes and shingle spits of Norfolk and Kent. Here, in a bleak windswept landscape dotted with smugglers' huts and buried bones, Jim's secret past calls to her like never before. Now Sam must decide. Will she walk away and pick up her own life? Or become an undercover operative herself and continue her father's work in the shadows…
About the Author: 
Clare Carson is an anthropologist and works in international development, specialising in human rights. Her father was an undercover policeman in the 1970s. She drew on her own experiences to create the character of Sam, a rebellious eighteen year old who is nevertheless determined to make her father proud.
Guest Post: Domestic Spy Noir by Clare Carson
Every family has secrets, but what if your family's secrets were also secrets of the state? This is the premise of The Salt Marsh – the sequel to my first novel, Orkney Twilight. Both these novels delve into the murky world of spies and agents from the perspective of Sam, the daughter of a police spy. I didn't set out to write books belonging to any particular genre, but I did follow the old adage, write what you know. As the daughter of an undercover policeman, I knew about growing up in the shadow of the secret state, and the novels I've written could be classified as domestic spy noir.
As a child, I knew that my dad was doing something secret and potentially dangerous, but I didn't know exactly what. As a teenager, I rebelled against the rules of secrecy that governed my childhood and speculated with my closest friends about his work. Was he really a spy? But my stories about him often amounted to little more than a feeling of unease, or snatches of events and conversations that made no sense. Perhaps I was a fantasist, unable to tell truth from fiction. Years later, after his death, I learned via a television documentary that my father really was a spy. He had been part of a small ultra-secret police unit that adopted false identities and went deep undercover, infiltrating radical political organisations. I was shocked. It was like twisting a kaleidoscope, the strange fragments of my childhood memories forming a new pattern. Orkney Twilight, in which Sam is a teenager, captures that sense of childhood uncertainty, the secrecy, the unanswered questions and then the sudden refocusing of the pieces as the shadows solidify and turn out not to be imaginary after all.
My father had only been dead for two years when the documentary revealing his work as a spy was broadcast. I was still grieving. The documentary made me question who I was grieving for, whether I should be grieving for him at all. It unleashed the old anxieties I had as a child during his long, unexplained absences when we didn't know when or whether he would return. The Salt Marsh, which features Sam in her early twenties, explores this aftermath of shock – grief and anger mixed up with once submerged fears. As the daughter of a spy, Sam discovers she has inherited her father's enemies, and finds it difficult to trust anybody, or know who is on which side.
Orkney Twilight and the Salt Marsh, like all fiction, reveal more truth through metaphor than through detail. But as domestic noir shines a light on the dangers lurking in the home and everyday family life, so my domestic spy noir novels reveal how the shadows of the secret state fall on the partners and children of spies.
Wow!  What a great post and intriguing story!  Thanks so much to Clare and Head of Zeus as I think I may be adding this to my TBR! If your interest has been equally piqued…click the link below! 
[amazon template=iframe image&asin=B00XLCTCNU]