OMFG!!!!! I am beginning to wonder if the last few days have all been a wondrous dream! The magic that is Harrogate – Theakstons Old Peculier Crime Festival for this CrimeBookJunkie is over but has already made a lasting imprint in my life.  I cannot even explain in words how much fun I had with Emma Shand, Katherine Everett, Sarah Hardy, Claire Knight, Shell Baker, Tara Lyons and Joanne Robertson – these ladies friggin rock!!
We arrived on July 21st totally buzzing and spent the first few hours in pure #AuthorStalking mode. Collecting our goody bags, and wandering around the hotel grounds I had to keeps the EEEEEEKS in check as I came across some of the best crime authors in the world!
There was so much going on it will be hard to even summarise the whole event in a blog post, but one of the highlights of the weekend for me was the first time ever appearance of the Noir At The Bar event held at Hale's bar just down the road from the festival grounds.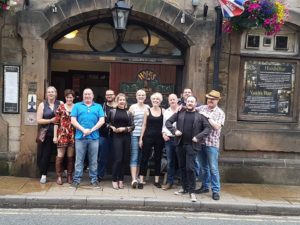 I had the opportunity to sit and chat with Eva Dolan (OMFG!!!!!), Alexandra Sokoloff (nearly died peeps- she sat RIGHT BESIDE ME!) and Helen Fitzgerald – I won her book Viral that night and she signed it!!!  I also won an amazing compilation of short stories, Happily Never After, from the authors that attend Crime & Publishment, run by the absolutely amazing Graham Smith!! 
The authors that were reading were Su-Bloody-Perb!  Some of my all time faves were literally a few feet away from me: Graham Smith, Col Bury, Luca Veste, Jay Stringer, Lucy Cameron, Brooke Magnanti, Vic Watson, Craig Robertson and  Russel D McLean.  I am hoping this will be the first of many #NoirAtTheBar events in Harrogate because people …..IT FRIGGIN ROCKED!!  Oh…and I am also making myself official photographer for any future #NoirAtTheBar events as I was on fire with the pics!!  Check out my facebook page where they will ALL be posted!
I was invited with a few of my fellow bloggers to a lunch with Mason Cross, Sarah Naughton, Harry Bingham and Danny Cole  by Sam Eades and Angela McMahon from Orion Books.  Holy Friggin Sh*t #bookjunkies!  It was so surreal to be sitting around a table talking books, publishing, publicity with such a fantastically down to earth bunch of people!  As a HUGE crime fiction fan (in case it was not obvious) all my fears and anxiety of being in the same room with those "in the know" soon disappeared as the conversation flowed and the laughs were a plenty!
The amazing Kim Nash from Bookouture came and sat with a few of us after collecting The Papercut Award for Best Page Turner on behalf of Robert Bryndza.  Next thing Sarah Hardy and I knew….we were SPEAKING to Robert on the phone!!!!   Oh- My- Frickin- Gawd!!!!! He is soooooo lovely! *Swoon*
The fab footie match where the North beat the South…and I am sure Col Bury had something to do with that…was a great time!
And guess what peeps! *Hyperventilating* I met and had a chat with THE Peter James!!  Hell yeah!!  Look at me and my girlies! And there is going to be some exciting happenings on the International Thriller Writers website soon so #WatchThisSpace!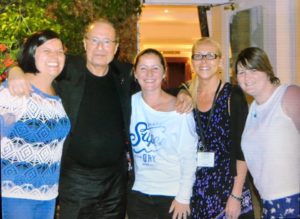 I also had the opportunity to meet people I have been friends with for bloody ages on social media, but had never met in real life!  And I tell you what….these people are #MyKindOfCrazy!   They were EXACTLY the same in person as they have been on/in Book Connectors, THE Book Club, Facebook and Twitter and our friendships have definitely been strengthened.  But the highlight of these meets has to have been finally meeting my #Twinnie!  EEEEEEEEK!   Sharon Bairden and I are definitely #ThelmaAndLouiseOnAcid and I swear we were separated at birth ….I mean, OMFG just look at us – I have to look twice to figure out which one is me!!!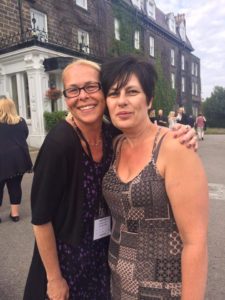 Some #TopTips then from this CrimeBookJunkie:
Don't waste your money on a full weekend rover ticket.  I don't regret getting one but as I did not use it once for anything, I will just buy panel tickets next year.
Don't be a chicken like me…lol….everyone is SO incredibly friendly and approachable, just go up and introduce yourself
Don't pack a lot!  I hardly used any of the things I brought with me so next year it may just be a change of the essentials….or maybe I will just go commando and save even more space!
Be prepared to laugh, meet new people and have the BEST time of your life.  I think I will be buzzing from this for the next year!  EEEEEEEEEEEEEEK!
Line your stomachs and prepare your livers – the alcohol is never ending – but you may have to remortgage your house as it does not come cheap!
I know I have missed out loads, have not mentioned everyone of the absolutely fantastic people I had the opportunity to meet and so there may well be another post, but I have to say this is one event you have to go to!
Finally, a huge thanks to Graham Smith and my homie Howard Linskey,  who both went out of their way to introduce me and totally big me up (still blushing) to so many authors and people in the know. And nearly being molested by Howard's publicist while meeting Simon Kernick still has me laughing!!  #TrueStory and may have been the closest I came to getting some action that weekend! ? I am going to be super busy but I am eternally grateful to you both! So thank you!!!!
So the magic that was Harrogate 2016 has come to an end but the memories will last a lifetime…..see you all again in 2017! ❤️ ~Best Time Ever~