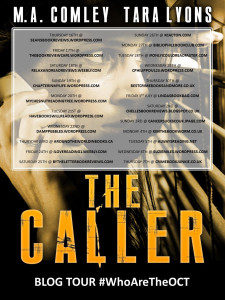 The crime-writing duo of Mel Comley (M.A.Comley) and Tara Lyons are back with a new book and a whole new team!  Two authors…so two reviews!!  I am absolutely THRILLED that Claire and I are taking part in this Blog Tour and love the fact that we are closing #TheCaller tour down. So without further ado — let's get started! Claire's review is first up and then you will find my review just below.  Whoop! Whoop!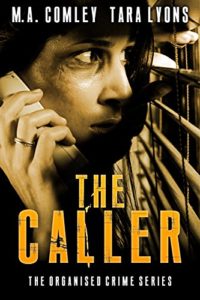 Synopsis:
When The Caller rings… what would you do?
The Organised Crime Team is a newly-formed unit with one of the toughest tasks in London. Led by DI Angie North, their first investigation is a cold case that has foxed several officers in the Met for months.
After Angie holds a TV appeal regarding the case, a number of similar aggressive attacks are brought to her attention. The team call on their contacts on the street for help. Their interest is sparked when several local names surface.
To bring the criminals to justice a member of the Organised Crime Team is asked to risk their life in a dangerous covert operation.
Claire's Rating: 4.5/5   and     My Rating : 3.5/5
Total Rating: 8/10 ⭐️'s
Claire's Review: 
The Caller….will Angie North and her new specialist team catch him before he spirals out of control?
From the start we know who the evil piece of work that needs to be locked up is.  I took an instant dislike to Tyler, an individual who has no morals at all!  He's probably one of the most vicious baddies I've come across!
I loved the diversity and newness of the team.  At the start of many series, the team is already established so the fact that Angie is heading up this new department and we're all effectively meeting the team at the same time as Angie makes a refreshing change.  Angie has her personal problems to deal with in the form of a teenage son but unlike a large number of detectives around, she doesn't have much baggage…yet!
The writing is seamless; you'd never know this is written by two talented ladies. But then again I said that about their previous publication "Web of Deceit".  I am fascinated how a pair of writers can work together to produce a story without each individual compromising their own style. Having read books by both Mel Comley and Tara Lyons now, The Caller brings a bit of both of authors to the table (not that I could identify who wrote what).
A massive thank you to Tara Lyons and Mel Comley for giving me an e-copy of The Caller! I hope the team is here to stay!
My Review:
A huge thanks to the authors, M.A Comley and Tara Lyons for an ARC of this book in exchange for an honest review.
Set in the Brixton area of London, The Caller introduces us to the Organised Crime Team led by DI Angie North.  This is the perfect setting for this type of story and police team as crime has been associated with this area for years.  Having had worked in and dealing with the gangs, organised crime , drugs and violence which littered the day to day activities of this area in London, the themes of this story fit well into the plot and showed a good understanding of what happens when this type of crime grows in some Estates and the socio-economically deprived areas in our midst.
For me, the pace of this book was slower than other books from both of these authors, however this was not a bad thing.  Instead, the focus seemed to be on introducing the characters who will feature in this series in the future– great idea, as we will then be able to see how they grow throughout the series! I thought the characters were well developed and extremely likeable.  I have to be honest, I was worried that DI North would be a replica of Lorne (from the Justice series) or DI Sally Parker, and although there were hints of similar traits- this character stood out on  her own and may well become another of my favourite female leads!
The baddies in the book also stood out for me and we are introduced to the killer right from the start.  I found it difficult to understand the motivation behind the killer's decision to murder – although if I had to hazard a guess, I suspect power & control played a major part as this just oozed out of him.  Duke was a character that also stood out for me.  Make no mistake, he is rotten to the core  and we are left wondering when or if he will return in this series — but I actually quite liked him…weird eh?!  I felt there may be a wee glimmer of redemption in him….I could be wrong….but I hope not!
What I also loved is the fact that although this was a collaboration – the story was seamlessly delivered and really showed that these two authors work well together.  They write from a third-person point of view and the voices of the characters were pitched perfectly in my opinion.
I would definitely recommend readers of the Justice series or Tara's debut novel In The Shadows pick themselves up a copy of this new series.  I am certainly looking forward to the next case that will come across the Organised Crime Team's desk!  You can click the link below to grab yourselves a copy!
[amazon template=iframe image&asin=B01D7BC67I]