Woohoo #bookjunkies!  Today it is my turn on Netta Newbound's Prima Facie blog tour !  Netta has kindly provided a synopsis of the book as well as an awesome Guest post!  So I won't keep you waiting…check it out!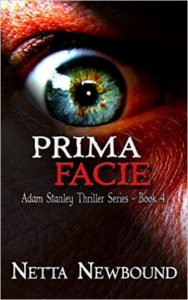 Prima Facie
In this fast-moving suspense novel, Detective Adam Stanley searches for Miles Muldoon, a hard-working, career-minded businessman, and Pinevale's latest serial killer.
Evidence puts Muldoon at each scene giving the police a prima facie case against him.
But as the body count rises, and their suspect begins taunting them, this seemingly simple case develops into something far more personal when Muldoon turns his attention to Adam and his family.
Amazon link – http://bookShow.me/B01H9FM0XS
Guest Author Post: The Control Freak In Me…
By Netta Newbound 
I finished my first book several years ago then promptly put it away and started on book two. I had four full manuscripts before I plucked up the courage to do anything with them.
I read all the advice on the internet—listened to all the tales of doom—and with this in mind, I submitted my first book, BEHIND SHADOWS, to several international agents and publishers. Then I began the dreaded wait.
Two weeks later, the first offer came in! I couldn't believe my eyes. I read the email that I'd been certain was a standard letter of rejection. The offer was from a small publishing house in the UK. By the time I'd received the contract, several more offers had arrived—one more publishing contract and five offers of representation from reputable agents. I was ecstatic.
But now I was faced with an impossible decision. Who to choose?
One Agent in particular appealed to me. She was from the UK – like me, and my books are set in the UK also. But, I was torn between her and a top New York agent. After much discussion I chose the latter—big mistake.
Oh, don't get me wrong. There was nothing wrong with her. She just had too many authors on her books to do each of them justice. And so, after much deliberation, we parted, amicably.
Although I was certain I'd made the right choice, here I was, a year down the track and back to square one. That was when I made the decision to self-publish—best thing I EVER did.
My first job was to find several beta readers and critique partners I could trust. Then, once happy with the content, I hired an editor.
I studied how to format a manuscript, learned basic Photoshop, and proceeded to publish my first book. That was about eighteen months ago, and I haven't looked back. I've just released my eleventh book—three of which are non-fiction, co-authored with a friend.
My biggest achievement to date has got to be knocking Stephen King off the number one spot! Alright, it wasn't for long, but long enough for me to get a screen shot of it! Haha.
So, I guess what I'm saying is, why wait? If you've spent all those hours writing your manuscript, then many more hours editing it, surely your book deserves to be seen. Amazon has made it so much easier for an author to get their work out there rubbing shoulders with the book elite! And although an exclusive book deal from a top publishing house is always at the back of our mind, how likely is that to happen right off?
Set your inner control freak loose and take charge of your own destiny.
How to connect with Netta Newbound Psychological Thriller Author:
Thanks so much to Netta for asking me to be a part of this blog tour and for providing an awesome guest post.  Claire  is also on the tour and shares her thoughts on Prima Facie on Thursday.  Make sure to check out the other stops in between!