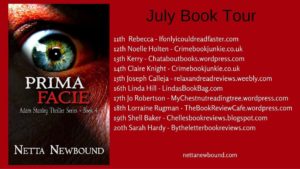 It is Claire's stop on Netta Newbounds' Prima Facie blog tour and she  has done a great review! Enjoy #bookjunkies! ?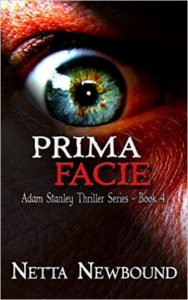 Synopsis:
In this fast-moving suspense novel, Detective Adam Stanley searches for Miles Muldoon, a hardworking, career-minded businessman, and Pinevale's latest serial killer.
Evidence puts Muldoon at each scene giving the police a prima facie case against him.
But as the body count rises, and their suspect begins taunting them, this seemingly simple case develops into something far more personal when Muldoon turns his attention to Adam and his family.
Claire's Rating: 4/5
Claire's Review: 
Before you read any further into my review, I want to point out that if you're squeamish or easily disgusted, this might not be a book for you! My experience of Netta Newbound tells me her books are thought-provoking with a shock factor. And this one is no different….well I did warn you!
Adam Stanley and his team are back and this time they're dealing with one sick individual. Seriously sick…..this nutter of a criminal who leaves messages in poo, yes that's right human poo. It may or may not surprise to you that by the wonders of science you can tell whose poo a specimen is and it actually contains DNA! Science is fascinating! Obviously this revelation makes Adam's job so much easier in theory…it's just a matter of finding the perpetrator who seems to have vanished into thin air leaving behind their wallet and phone, the two things I personally NEVER leave the house without!
I've found Netta's writing very addictive to read; I want to know what's going to happen next, who is next to be targeted!
I would highly recommend reading the previous three books before starting on this one. The first Beyond Shadows is a must as it sets the scene for parts of Adam's personal story.
A big thanks to Netta Newbound and Crimebookjunkie Book Blog for giving me this ebook to read and review! I'll be reading books 2 and 3 very soon (sorry to all those purists who read everything in order – I can hear the tuts of disgust from here)!
Thanks Claire for your review and Netta Newbound for having us both on the blog tour!  You can grab yourself a copy of this book from amazon by clicking the link below! 
[amazon template=iframe image&asin=B01H9FM0XS]