Both Claire and I have devoured the latest offering in the Justice series by the absolutely awesome M.A. Comley so I thought I would share BOTH our reviews today on the blog!  If you have never read any of the Justice series, read with caution as there may be a wee *spoiler* …..Here are our thoughts on Mortal Justice – over to you Claire!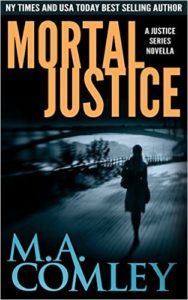 Synopsis: 
A 12,000 word Justice short novella to be read between CRUEL JUSTICE and IMPEDING JUSTICE.
What would you do if you saw a stranger's life in danger?
DI Lorne Simpkins and her partner, DS Pete Childs investigate a violent attack. Lorne becomes increasingly concerned when her star witness, Donna Moran, goes missing. She knew Donna was petrified, but has Donna just gone into hiding, or has she been taken by the offenders?
Claire's Rating: 5/5          My Rating: 5/5
Total Rating: A Perfect 10 ⭐️'s 
Claire's Review: 
I'll get this out the way now, I'm a bad kind of Justice fan. I've only read the later instalments (I can hear all the gasps and feel all the virtual slaps); Lorne has always been a Warner and Pete has always been a ghost. I've been promising myself a Justice month (or two) where I read them all back to back starting with Cruel Justice….but I haven't so that's why I'm a bad Justice fan.
Reading Mortal Justice is an eye opener of why all the good Justice fans love the Simpkins/Childs partnership. Their banter is brilliant – I loved Pete's term Lorneitus. From what I know of Lorne, she is dedicated to her job and the fight against crime. They know each other so well and there is even a tribute to the author's beloved football team.
When it comes to short stories and novellas, I am truly amazed by authors who tackle them. So much is packed into such a short amount of words, 12,000 in the case of Mortal Justice. I felt I'd been through a full investigation into a murder and kidnapping and the ebook is only 69 pages!
A big thank you to Mel Comley for giving me an advanced copy of Mortal Justice to read and review.
My Review:
I was given this book by the author in exchange for an honest review.
Oh-My-Friggin-Gawd!  Those were my EXACT words when I saw that Mel Comley had a new Justice novella out!  And when I learned *SPOILER* that Lorne was still Simpkins and Pete was still alive …well I am not going to lie….I bloody well Eeeeeeek'd!
This was a fast-paced novella that had me gripped from start to finish.  Lorne and Pete are on the case of a murder and a kidnapping in this story and fear, violence, gangs and corruption weave their way through the pages.
I have always loved Pete and his appearance in this novel was a sweet reminder of the banter, friendship and loyalty that he shares with Lorne.  Lorne is her usual awesome self!  Smart, strong but also struggling with the balance of home vs work life.
And there was also a return of another favourite character who I am not going to name…have to leave you guessing….as I love a #Tease!  The author has a way of drawing the reader into the pages and I love how she includes her fans as characters!  I had that privilege in #RoughJustice – *shameless plug* and I find it exciting when I see someone I "know" in a book!
I could gush forever, but will leave my review short and sweet!  Do I recommend this book – you bet you sweet arse I do!  This was the perfect #JusticeFix for me and for any die hard Justice fans…well…you will adore it!  Click the link below to get your hands on #MortalJustice
[amazon template=iframe image&asin=B01H0IP6S0]