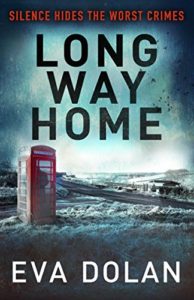 Synopsis: 
A man is burnt alive in a shed.
No witnesses, no fingerprints – only a positive ID of the victim as an immigrant with a long list of enemies.
Detectives Zigic and Ferreira are called in from the Hate Crimes Unit to track the killer, and are met with silence in a Fenland community ruled by slum racketeers, people-trafficking gangs and fear.
Tensions rise.
The clock is ticking.
But nobody wants to talk.
My Rating: 5/5
My Review:
I purchased this book almost 12 months ago and after reading it, I am kicking myself for waiting so long!  The cover is stunning, the story is captivating and the characters are …well….pretty damn awesome!  If that isn't the recipe for a perfect read, I don't know what is!
Set in Peterborough, the themes of racism, immigration, politics, loss, love and betrayal can be found – although they are not all that we find in the pages of this story.
For me, the pace was set perfectly! Thrusting you full throttle into the story with a great build up and then evening out until you are again grabbed by the throat with a fantastic reveal.  I found myself questioning everything, thinking #DIHolten has solved the case before the book even ended – boy was I wrong!!  That is what I loved about this book ~ all is not what it seems!
DI Zigic and DS Ferreira (how great are those names!!) are the two main  characters from the Hate Crimes Unit.  What a pair these two are!  I freakin' LOVED the way they bounced off each other!  I also enjoyed the fact that the author shares some insight to what this pair are like outside "the job" ~ leaving us guessing and wanting more!
This is a no holds barred, straight-talking story about immigrants coming to the UK and what they have to face in Peterborough.  I felt all the characters had depth and a realism that is often hard to find when talking about such a fiery, divisive topic.
For a debut novel, this was a corker!  I am somewhat glad that I still have two more to read and cannot wait to get stuck in.  If you want a gritty, gripping page-turner to get stuck into, I highly recommend you check out Eva Dolan as this book kicks ass!  If you click the link below, you can grab yourself a copy! What the hell are you waiting for!? ?
[amazon template=iframe image&asin=B00F5W7KG0]