After the Harrogate come down, my 'lil star is back on form and has an awesome review of Clare Mackintosh's I See You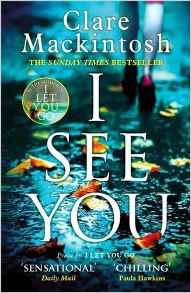 Synopsis:
When Zoe Walker sees her photo in the classifieds section of a London newspaper, she is determined to find out why it's there. There's no explanation, no website: just a grainy image and a phone number. She takes it home to her family, who are convinced it's just someone who looks like Zoe. But the next day the advert shows a photo of a different woman, and another the day after that.
Is it a mistake? A coincidence? Or is someone keeping track of every move they make . . .
I See You is an edge-of-your-seat, page-turning psychological thriller from one of the most exciting and successful British debut talents of 2015.
Claire's Rating: 5/5
Claire's Review: 
I really enjoyed I Let You Go when I read it last year so when I got the email from Little Brown asking if I wanted an early copy of I See You, squeals ensued!! And the squeals continued….
I can't tell you how excited I was when I'm quite happily reading I See You and there I spy a location with the same name as my workplace. Then it dawned on me, Clare had posted on her author Facebook profile a request for suggestions for a fictional London office building which I responded to with the name of the office block I work in. Yes Clare used my suggestion!!! Eeeek I was a happy girl that day!!
I was even lucky enough to meet the author at the Old Peculier Crime Writing Festival in Harrogate this year. She is lovely and very approachable. I got to congratulate her on her win of the Theakston Old Peculier crime novel of the year award for I Let You Go. #totallydeserved
Anyways back to I See You….it's a story about a normal woman who spots her face in the London Gazette with a phone number and website. I always thought the London Gazette was just a rather dull paper full of public legal announcements as pensions being my line of work, we use the Gazette to place notices of pension schemes going into wind up. So to discover that it takes slightly more risqué ads for chat lines and the like has changed my opinion of the paper.
Clare's writing is brilliant, I really couldn't decide who was the individual up to no good, upsetting Zoe's normality. The net was flung wide but I couldn't tighten it to reduce my culprits. And oh boy when I did find out, I was totally shocked!! And that is a good thing; a sign of good writing through subtle misdirection and slight of hand!!
I have to say but *whispers* (as I know a huge amount of people loved I Let You Go), I preferred I See You. Don't get me wrong I did really like I Let You Go but I See You was much better for me!
A huge thank you to Little Brown Book Group and Netgalley for inviting me read and review I See You honestly.
Thanks for the fab review Claire!  Once again, you are breaking my bank – will add this one to my wishlist while I work on reducing my TBR!  Click the link below for a quick ride to amazon for a copy! 
[amazon template=iframe image&asin=B010QBV1JG]