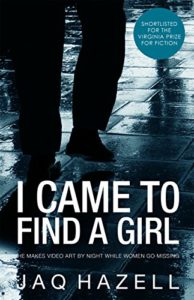 Synopsis:
You're young, and you're out partying.
You know how to look after yourself, don't you?
Everyone has that moment when, through no fault of their own, they render themselves vulnerable to harm.
When art student Mia meets famous artist Jack Flood, she later wakes naked in his hotel room with no idea what has occurred. She fears she may have been filmed for one of his future artworks. Should she go to the police? And what has happened to her missing friend? Women are being murdered, and the city seems a more dangerous place.
My Rating: 3/5
My Review:
I was given this book by the author in exchange for an honest review.
Set in Nottingham, this story is told from Mia's POV (point of view) in the main.  Vulnerability, anger, fear, questioning the truth and injustice are a few of the many themes we find in this book.
The plot was interesting however, I found the pace to be a bit too slow for a book described as a psychological thriller.  It was a good storyline though and that is why I persisted!
If you follow/read my reviews, you will know how much I love characters!  They can make or break a book for me – and although the characters in this book were interesting, I found them a little one dimensional.  I was neither repulsed nor drawn to any one in particular – however, Jack Flood nearly drew me in as there was a bit of mystery about him which intrigued me.  I must admit, I would have liked to find out a bit more about his background…what made him tick…
I also figured out the twist fairly early on and wonder if there had been a few more red herrings thrown in the mix and development of certain chapters, would I have been more gripped?
I do love the cover of this book and I also loved the descriptions set out.  Very atmospheric- you almost felt pulled into the pages.  Overall, I would have to say that if you are looking for an interesting story, more crime fiction rather than a pure psychological thriller, than this book will definitely hit the spot.  Click the link below to grab yourself a copy!
[amazon template=iframe image1&asin=B015ZT3D7C]