A mahoosive welcome to the awesome Lucy V Hay for sharing this superb guest post on #CrimeBookJunkie today!  I have a few of my own to add in the comments later!  Feel free to add yours too!  
TOP TEN UNRELIABLE NARRATORS, AMNESIACS
AND LIARS IN CRIME FICTION
By @LucyHayAuthor
Patrick Bateman in American Pyscho … Unnamed in Fight Club … Nick and Amy in Gone Girl … Classic Crime Fiction is filled with unreliable narrators and liars.
I love a story in which you're not sure if the protagonist is telling the truth or not – either because they can't remember, or because they may have an agenda, so are playing fast and loose with the truth! And it seems your average crime fiction reader is the same, because the genre is AWASH right now with unreliable narrators, amnesiacs and outright liars.
Check out my picks below – if you like the sound of them, click on the title/author links for my reviews (some spoilers) and make sure you join The Criminally Good Book Club to chat more about crime fiction and share your own reviews with fellow members!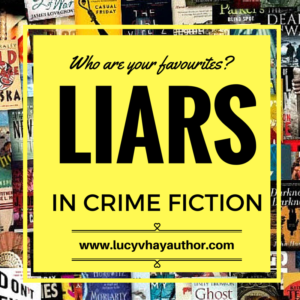 1) Claire in Mindsight by Chris Curran. Five years ago, Claire crashed her car, killing her father, her husband and one of her twin sons. She can't remember the accident, but accepts her guilt – there's no arguing with the drugs found in her system. Now she's out of prison, she feels she has to face her past in order to reconnect with her remaining son.
2) Anne in When She Was Bad by Tammy Cohen. Anne is clearly a learned woman in this book with lots of interesting ideas and background knowledge. Cohen weaves an intricate storyline here of office politics and backbiting that delves into the dark past of one of the characters. But which one?? Cohen is a master of suspense and does a really good job here of subverting our expectations.
3) Estelle in Little Girl Gone by Alexandra Burt. Postnatal depression is something unfortunately many women have to face and Burt does an excellent job of painting a picture of an unravelling mother. As we follow Estelle's journey, just like her we can't be sure if she might have harmed baby Mia or not.
4) Catrin in Little Black Lies by Sharon Bolton. Catrin's hatred of her best friend Rachel, responsible for the deaths of her two sons, is palpable off the page: Catrin's rage and desperation make her dangerous. These emotions also mean she is not willing to accept her part in the blame, either. Absolutely mesmerising!
5) Lillian in Wreckage by Emily Bleeker. This is a fantastic twist on the "stranded on a desert island' motif – and it's definitely no paradise! Joining the two main characters, Lillian and Dave, in present day when they've rejoined 'normal' life, a TV interviewer works hard to expose their lies about their lives on the island.
6) Charlie & Sal in Between You And Me by Lisa Hall. I don't want to say too much here, but this tale of domestic abuse paints a terrifying picture of a relationship gone horribly awry. And that twist! Omg.
7) Y (Yvonne) in Apple Tree Yard by Louise Doughty. Yvonne is a fascinating character: she is such a high achiever and staunch feminist, yet is undone by the romantic myth of a tall, dark stranger so quickly and easily … Or is she?
8) Sarah in The Ice Twins by SK Tremayne. When one of her identical twins, Lydia, dies, Sarah becomes certain that she has misidentified the dead one … The surviving daughter, Kirstie, claims she is Lydia! But how has this happened? A hugely compelling and visual concept, here.
9) Nora in In A Dark Dark Wood by Ruth Ware. A clever twist on the 'you go into the woods and get killed' sub genre, this recounts a hen party that goes horribly wrong. Nora is an intriguing main character because she wakes in hospital under police guard, unsure what she might have done.
10) Catherine in Disclaimer by Renee Knight. Catherine hides a terrible secret she has never told anyone … yet finds it in the pages of a novel that is clearly HER story. But how could this have happened?? What I love about this tale is we feel certain we *know* what happened, along with the writer of that novel, only to discover it's far worse than we could have assumed.
Who are YOUR favourite unreliable narrators, amnesiacs and liars in crime fiction? Have you read the above books – what did you think? Over to you …
BIO: @LucyVHayAuthor is currently writing her first psychological thriller novel. She is also a script editor for movies and has written the nonfiction book, Writing & Selling Thriller Screenplays (Kamera Books). Join The Criminally Good Book Club to sign up for news, offers and giveaways.
Thanks so much Lucy!  Loved this post!  And don't forget to join #TheCriminallyGoodBookClub peeps!