OMFG #bookjunkies!  I love BOOK covers!  I absolutely love cover reveals!! So when the fabulous Margaret Murphy (aka A.D. Garrett) asked me if I would like to take part in a coordinated cover reveal for the next A.D Garrett novel ––Truth Will Out, I believe my exact words were….HELL YEAH!!  And then when she told me it was a GIF….well I think you can imagine what the next words out of my mouth were….EEEEEEEEEEEEEK!!!!  I bloody love GIF's!  So without further ado….feast your eyes on this beauty!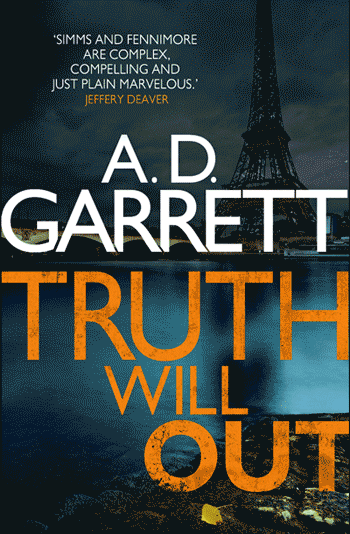 About The Book:
Truth Will Out
A mother and daughter are snatched on their drive home from a cinema. The crime has a number of chilling similarities to a cold case Professor Nick Fennimore had been lecturing on. Then Fennimore begins receiving taunting messages – is he being targeted by the kidnapper?
Meanwhile, a photograph emailed from Paris could bring Fennimore closer to discovering the fate of Suzie, his own daughter, now missing for six years. He seeks help from his old friend, DCI Kate Simms, recently returned from the US. But Kate is soon blocked from the investigation… A mother and child's lives hang in the balance as Fennimore and Simms try to break through police bureaucracy to identify their abductor.
'Simms and Fennimore are complex, compelling and just plain marvellous.' Jeffery Deaver
Follow A.D. Garrett on Twitter 
I know the book does not come as a GIF cover, but it is awesome on its own anyway! Cannot wait to read this!  I am not sure if I will ever have a more amazing cover reveal…but regardless….I am one happy #CrimebookJunkie!  Huge thanks to Margaret Murphy/ A.D Garrett and Little, Brown UK!!