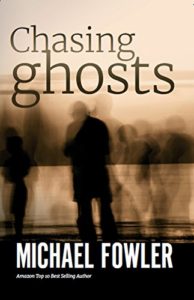 Synopsis:
Mathew Tobias Alexander has a past. A troubled past. A past he has chosen to hide.
So the disappearance of his girlfriend following a vicious argument, cause him all kinds of dilemmas.
While he battles to keep his secrets hidden the appearance of a mysterious Stalker, and Detective Jack Buchan, who is grappling with his own personal demons, add to his woes.
Will they also be Toby's undoing?
Rating: 4/5
My Review:
I was given this book by Darren Laws of Caffeine Nights Publishing, in exchange for an honest review.
Can I first just say how much I LOVE the cover of this book! It is haunting, atmospheric and drew me in immediately! The perfect way to grab my attention is a cover that speaks to me…and this one screamed!
Set in/around Cornwall, this is the first in the Detective Jack Buchan series.  Various themes are scattered through the pages and include, but are not limited to: secrets & lies, the past, revenge, loss, justice, betrayal and seeking the truth.
At only 160 pages, this was a very quick read for me.  The plot was intriguing and mysterious.  I was immediately drawn into the story and the pace was perfect for the way the story-line was set out.  It is one of those books that niggles at you….once you start, you need to keep reading.
I enjoyed the style of writing and the short, sharp chapters.  Just enough information to keep you reading and not long and drawn out.  For me, this added and enhanced the intrigue and suspense.
The characters were well developed and believeable.  Detective Jack Buchan has his own demons which he is only coming to terms with.  He is likeable and a bit of a rogue at times. Though this does not surface immediately.  Fabi Nosenzo (great bloody name!) comes to work with Jack in CID on an attachment as she wants to be a Detective.  She has to be my favourite character.  Smart, sassy and a bit bad-assy!  And then there is Toby Alexander…all is not what it seems with this guy.  I found him to be a bit whiny and annoying – though under the circumstances, I guess he had to be!
I figured out the twist fairly early on – watch out Fabi, I may get your job!  However, this did not detract from my enjoyment of this book at all.  In fact, I am looking forward to more in this series as I suspect Jack Buchan will have a lot more to offer!
I highly recommend this read and will certainly read more from this author in the future.  I am keen to read his other books too, so that is a good sign!  Click the link below to grab yourself a copy of this great read!
[amazon template=iframe image1&asin=B01FY5EXLC]