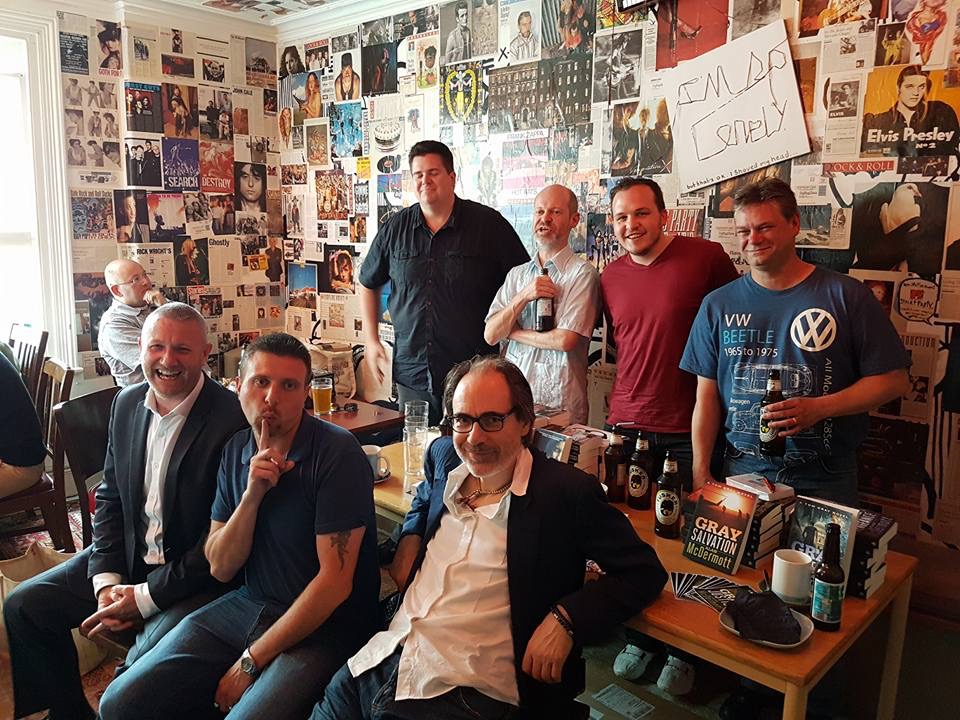 On July 30th, I made the 8 hour round-trip journey to Brighton to see some of my favourite crime authors and to meet a few new ones!  #BloodyBrighton saw Paul Grzegorzek, Stephen Edger, Alex Shaw, Alan McDermott, David Videcette, Tom Cain and Charlie Flowers up close and personal in The Marwood Cafe.
After the come down of Harrogate, this event just lifted me right back up on the giddy-train of euphoria as I sat and chatted #CrimeFiction, writing and books with the most awesome writers!  I think I may have even learned a few secrets…but I can't share them….as I would have to kill you! ??
Without wanting to offend anyone, the highlight of my day would have to have been meeting Paul Grzegorzek and Stephen Edger!  I have been a huge fan of both these authors for 1-2 years, but have never had the opportunity to meet them!  They are both exactly what I imagined…except for the posh accents ha ha ha..and I am even more of a fan now, if that is even possible!  I am serious when I say, you HAVE to read their books!  All of them!  Even the ones you may think might not be your cup 'o tea, because they are absolutely amazing and  are in my #TopCrimeFiction reads of all time! And OMFG peeps!  Stephen Edger actually quoted ME on the cover of his latest book!  I had though it was only for the kindle copy, so nearly died on the spot when I saw it on the cover!
What I also loved about this event, was the fact that I was able to meet some authors I follow/friend on social media sites, but have not yet had the opportunity to read their books!  It gave me a chance to ask about their books and I tell you what, my interest was certainly piqued!  Alex Shaw is absolutely hilarious and I spent a lot of my time learning about his series, publishing and some of his "fans". Charlie Flowers...well what can I say!  He could be a character himself and was absolutely divine!  Alan McDermott and I had a little more time to chat as well and I have been hearing some great things about the #GraySeries!  And I simply adored chatting books with Tom Cain!  I am good friends with author, Graham Smith, who sang Mr Cain's praises…and I can see why!  What a fascinating man and superb writer!
David Videcette also made an appearance after a struggle on the motorway and his charm was on full factor 10!  A few of his dedicated fans showed up and he had them hooked!  We chatted about crime and I even had to give him a lesson on how to be more professional at these events ….*kidding* ….sort of! ??
Steven Hayward turned up to meet the authors himself, so that was a bonus too!  I had met Steven at another event and he is just so down to earth, it was an absolute pleasure to see / chat with him again!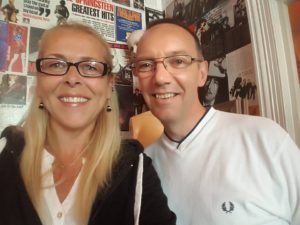 But OMFG peeps!  You will not believe what these amazing authors did for me!  In fact, I still have to pinch myself and check to make sure I am not dreaming!!!  Each of this absolutely wicked wonderful authors…..gave me a FREE SIGNED copy of one of their books!  Although Alan McDermott gave me a whole series signed! EEEEEK!  I think I turned 50 shades of red as I was completely overwhelmed and taken aback by their generosity!
I was absolutely gutted when I had to leave, but remained smiling all the way home! In fact, I am STILL smiling as I simply had an amazing day and cannot believe I finally had the chance to meet all these superb authors!  Next time they organise an event, I cannot encourage you enough to go!!  I mean, just look at the smile on my face!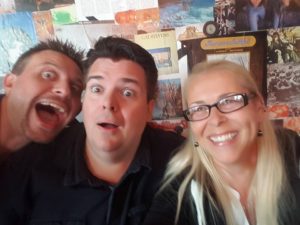 A mahoosive thanks to all of you wickedly wonderful authors for making another one of this #CrimeBookJunkie's dreams come true! #ForTheLoveOfBooks ?❤️