A huge thanks to the absolutely wonderful Karen Sullivan of Orenda Books for Claire's copy of this stunning book by Gunnar Staalesen. I have seen some superb reviews for this book and I am definitely looking forward to reading it.  I am also totally in love with the cover….wow!  So I won't keep you waiting any longer #bookjunkies….over to Claire for her thoughts on Where Roses Never Die.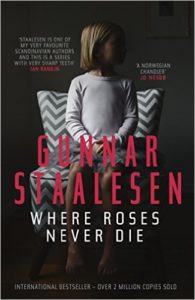 Synopsis:
September 1977. Mette Misvær, a three-year-old girl disappears without trace from the sandpit outside her home. Her tiny, close middle-class community in the tranquil suburb of Nordas is devastated, but their enquiries and the police produce nothing. Curtains twitch, suspicions are raised, but Mette is never found. Almost 25 years later, as the expiry date for the statute of limitations draws near, Mette's mother approaches PI Varg Veum, in a last, desperate attempt to find out what happened to her daughter. As Veum starts to dig, he uncovers an intricate web of secrets, lies and shocking events that have been methodically concealed. When another brutal incident takes place, a pattern begins to emerge …
Claire's Rating: 4.5/5
Claire's Review:
Where Roses Never Die is the 16th Varg Veum novel but this is the first I've read – in fact it's the first proper Scandi-crime novel I've read! I know some people who are currently giving me a virtual slap for that comment!  But you'll be pleased to know I'm sold!  I've got a few Scandi-crime books sat patiently waiting on my kindle so I'll try not to put off reading them for too long.
I loved seeing the Norwegian letters ø and å scattered through the novel.  Admittedly I have no idea how the place names are pronounced that they feature in.  
I don't know if it's a Norwegian saying or something the author has created but the phrase "My mouth was as dry as a school sponge at the end of the school holidays" really stood out to me. It gives a great image as to the thirst of Veum both for fluid and for something stronger.
At points I felt the book was reminiscent of Six Four by Hideo Yokoyama; this could possibly down to the similar story of a historic child disappearance, or that's because it's translated it's in a more "proper" version of English than I normally read.
The author definitely keeps you guessing; what does an armed robbery linked with the old case of the disappearance of a young girl?? Veum is drawn into both investigations unable to separate off the armed robbery from his mission of uncovering the truth about the disappearance.
A huge thank you to Karen Sullivan at Orenda Books for sending me a copy of Where Roses Never Die. I well and truly popped my Scandi-crime cherry with this fabulous book!
Thanks for the great review Claire and for once again adding to my growing TBR! Click the link below if you are keen on a bit of #ScandiCrime!