Eeeeeeek!  Claire has finally read the lovely Robert Bryndza's The Girl In The Ice!!  As Claire and I will be hosting The Night Stalker blog tour on June 8th, I thought it only fitting to get this beauty out there in the lead up to our stop on the tour!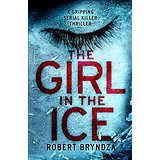 Synopsis: 
Her eyes are wide open. Her lips parted as if to speak. Her dead body frozen in the ice…She is not the only one.
When a young boy discovers the body of a woman beneath a thick sheet of ice in a South London park, Detective Erika Foster is called in to lead the murder investigation.
The victim, a beautiful young socialite, appeared to have the perfect life. Yet when Erika begins to dig deeper, she starts to connect the dots between the murder and the killings of three prostitutes, all found strangled, hands bound and dumped in water around London.
What dark secrets is the girl in the ice hiding?
As Erika inches closer to uncovering the truth, the killer is closing in on Erika.
The last investigation Erika led went badly wrong… resulting in the death of her husband. With her career hanging by a thread, Erika must now battle her own personal demons as well as a killer more deadly than any she's faced before. But will she get to him before he strikes again?
Claire's Rating: 5/5
Claire's Review:
I'm late to the Erika Foster party… I've had The Girl In The Ice sat waiting to be read since it came out in February but with other books jumping the queue, I just didn't get round to reading it. But then I was asked to take part in The Night Stalker blog tour so I know I had to bump The Girl In The Ice up the list dramatically!
Erika Foster isn't the most likeable detective I've "met" but she gets the job done in her own unique way. She doesn't hold back, she follows her hunches and doesn't care what other think. But she's got a fragile side which is still raw following her husband's death next to her out on a raid in Manchester which I think contributes to her brashness. As I read, I warmed to Erika, she's just got a different way of working!
I have to say I didn't have much sympathy for our victim Andrea; a spoilt "It" girl who uses things and people until they're no longer useful or entertaining. But then again her mourning family aren't the people I'd like to call my nearest and dearest!! However the police is non-discriminant when it comes to victims of crime and Erika and the team must investigate and catch the killer!
As usual with crime novels, there are plenty of suspects to pick from, but unusually for me I didn't settle on my prime suspect early on. Unlike other books of the genre, I didn't feel drawn to anyone in particular. The author left enough doubt in my mind to not totally dismiss any one person.
This is yet another Bookouture author whose book I've really enjoyed. This publisher is definitely a firm favourite in my book. Having read most of their crime and suspense offerings I think I need to explore their softer and lighter side but that's for another time!
A big thank you to Bookouture and Netgalley for giving me this ebook in return for my unbiased review and thanks Noelle for giving me the nudge I needed to read this fabulous book!
We are both looking forward to our stop on the blog tour next week. Totally thrilled to have my 'lil star joining me!   I thought this book was brilliant too and highly recommend you click the link and grab yourselves a copy #bookjunkies!
[amazon template=iframe image&asin=B019G6DSDE]